Pamela's Gluten-Free Cornbread & Muffin Mix Review
Posted on April 20th, 2009 by Alison
Read 8 Comments - Add Your Own »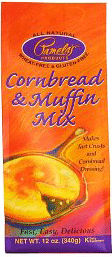 She's done it again! Pamela's new gluten-free mix, the Cornbread and Muffin Mix, has lived up to my expectations (which are higher for Pamela than the normal population at this point!) She even uses organic corn, which is a big plus in my book.
So far I have only made the regular sweet cornbread recipe on the package. I was a little worried that it would be too sweet and considered cutting the sugar as the recipe suggested as an alternative, but I decided to make the recipe exactly as written (there is no sugar in the mix itself). I am so glad I did because the level of sweetness in the cornbread was PERFECT. The texture and flavor was to me exactly as cornbread should be. My husband agreed, eating way more than he should have!
The recipe calls for butter, but you could easily use a dairy-free margarine like Earth Balance, or substitute oil as the recipe states. There is not an egg-free recipe on this mix (as there is with the Bread Mix and Chocolate Cake Mix) because Pamela said she wasn't happy with how it turned out without eggs (she's a perfectionist, that one). I am going to try it dairy-free and egg-free anyway and will give an update on how it turns out.
Something that I really like about Pamela's mixes is that there are so many recipes on each package. The Cornbread & Muffin Mix has suggestions for cornbread variations, including Buttermilk, Cheddar Cheese, Green Chili Cheese, Green Onion and Sour Cream, Corn Kernel and Sweet Pepper Cornbreads. Other recipes include Southern Skillet Cornbread, Southern Cornbread Dressing, Cranberry Orange Corn Muffins, and a Tart Crust, either savory or sweet. I am looking forward to trying the tart crust — anyone have ideas of what to put inside?
My opinion overall is that this is how cornbread should taste, gluten-free or not. Be sure to try it — you won't be disappointed!
Where to find the Cornbread & Muffin Mix:
It should be available soon wherever you normally find Pamela's Products, and here on Amazon.com.
Ingredients of Cornbread & Muffin Mix:
Organic Degermed Corn Meal; Brown Rice Flour; White Rice Flour; Tapioca Starch; Sweet Rice Flour; Potato Starch; Organic Degermed Corn Flour; Grainless & Aluminum Free Baking Powder (Sodium Bicarbonate, Sodium Acid Pyrophosphate, Potato Starch); Sea Salt; Xanthan Gum.