Gluten-free cereal giveaway!
Posted on May 31st, 2009 by Alison
Read 72 Comments - Add Your Own »
One of the foods you have to watch out for when on a gluten-free diet is cereal. Most are made of a gluten-containing grain, like wheat, barley, or oats (oats themselves are gluten-free, but the oats used in most cereals are contaminated with wheat). Even if the cereal is made from a gluten-free grain like rice, corn or buckwheat, barley in the form of malt is often added for flavor — this is the case with Rice Krispies, for example.
Not to worry, for Erewhon (pronounced Air-whon) gluten-free cereals are here! Their Gluten-Free Crispy Brown Rice Cereal goes snap, crackle, pop and is perfect for making rice crispy treats. They are a staple cereal in my house, along with a few other Erewhon flavors.
Now they have 2 new flavors of gluten-free cereal to choose from: Cocoa Crispy Brown Rice and Strawberry Crisp. Both are sweet and delicious!! I have been snacking on the Strawberry Crisp for days and my daughters love it. I haven't let them try the Cocoa Crispy Brown Rice yet because I know that I will never hear the end of their begging for more. I'm saving that one for a special treat… maybe even for chocolate rice crispy treats! Yum!
YOU CAN WIN!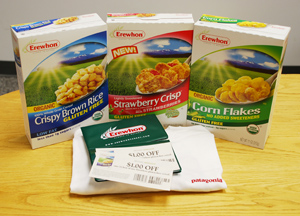 What's that you say? You would like to try them too? Well, here's your chance to win, courtesy of Erewhon:
HOW DO YOU WIN?
In  the comments section of this post, let me know the 3 flavors of gluten-free cereal you would like to win and your favorite way to eat cereal or use cereal (maybe it's just in a bowl with milk, but I know some of you will share some creative ideas!)
Make a comment by this Thursday, June 4 at noon PST, and I will randomly pick a winner (please only comment once!) I will announce the winner on Friday.
More about Erewhon:
Erewhon cereals are available wherever natural foods are sold including the natural food section of many supermarkets, and on Amazon!  For more information visit www.ErewhonGlutenFree.com.