Share the gluten-free love
Posted on May 27th, 2009 by Alison
Read 11 Comments - Add Your Own »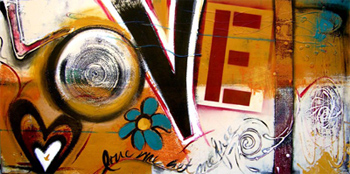 Original painting by Tara Himler
I want to share a correspondence I recently had with a woman named Chanel in Atlanta, Georgia. It really touched me and also brought to my attention a problem that doesn't get talked about — in fact, it is practically ignored in the celiac community. Chanel has given me permission to use both her story and name because she hopes that others will relate to her story.
Here is the first email I received:
May 7, 2009
"I have read your story and the info on your site. I just want to say, thank you so much for sharing your story and all the helpful information you have made available to the public. My symptoms sound exactly like yours, right down to the vitiligo. I am 26 now and I began having horrible stomach pain when I turned 21. The pain literally started on my birthday. I had symptoms which my doctor diagnosed as IBS aggravated by stress (this was not good news considering I had a very high stress job at the time). He told me there was nothing he could do for me. He said all I could do is try to get my stress level under control, eat more fiber and hope for the best. It was like my concerns were just brushed aside and forgotten. Like my pain didn't matter to anyone but me. It seemed so unfair.
That summer I took up meditation in an attempt to get my obsessive compulsive behavior and stress under control. So I sat in the sunshine practicing my deep breathing techniques. This helped a little with the stress… until I started getting spots! As my shoulders began to tan I realized there were spots of my skin that wouldn't. This fact was not conducive to my stress levels. I lost a lot of weight because the pain was so bad I just couldn't eat! People thought I had an eating disorder because I was already thin to begin with. Finally the pain and stress was so bad that I had to quit my job.
I tried diets, I tried cutting out dairy, I tried exercise programs (which wouldn't work because the pain would prevent me from exercising), I tried going back to doctors, I tried food combining, dietitians and books and supplements and everything under the sun!! Nothing worked!! Finally I saw the book, G-Free diet and found your review. I then went to your site and read pretty much everything there. I will be scheduling an appointment to be tested for gluten allergy and Celiac Disease. I have already started the "G-free diet" and have been G-free for about 3 days. I hope this is the answer because I can already tell a difference. I don't know how long it took for you, but my pain level has already decreased. After 5 years of pain, discomfort, stress and tears, I finally have some hope… Thank You, Thank You, Thank You…."
What a wonderful feeling to get an email like that! After I wiped tears from my eyes, I realized that I should let her know that if she is going to get tested for celiac disease she should NOT be on a gluten-free diet before getting tested because it can produce a false negative result. I asked her if she had insurance and suggested that she get the test for celiac disease right away before she continues with the gluten-free diet. Her reply:
May 8, 2009
"No I do not have insurance. Unfortunately when I left my job for one less stressful, I also left my benefits behind. I am also about to go back to school. I start May 19, so you can imagine how difficult the idea is for me to start eating gluten again. If that is what is causing my problems, I definitely do not want to cause pain that could pull me out of class. For the time being, I plan on staying gluten-free until I can afford to go back to the doctor. I wish I could go tomorrow just to have a definitive answer but for now, I am on the 4th day of being gluten free and so far the pain has decreased every day. I couldn't believe how good I felt this morning! My boyfriend says it is just good to see me smile again. Thanks!"
When I emailed her a week later to see how she was feeling she replied:
May 17
"I am still G-free and I am still smiling!"
I know how she feels. I know EXACTLY how she feels. When I first read about celiac disease, I knew I had found the answer and went gluten-free that very minute. I called my doctor's office and told them that I wanted to be tested. The doctor called me back to tell me not to stop eating gluten yet. At that point I had already been gluten-free for a few days, and like Chanel, already felt better, and knew that I never wanted to eat gluten again. I was lucky that a) I had medical insurance, and b) I was able to see my doctor right away and get the tests, because if those two things hadn't happened, I'm not sure I would have ever tested positive for celiac disease. I was not about to eat gluten again — it simply hurt too much.
I always tell people they should get the celiac blood test, but clearly there are cases where this is difficult for the person financially. My cousin ended up paying $500 out of pocket for the celiac panel for her daughter (which turned out to be negative despite her many health problems). I have received many emails from people without insurance asking for help because they are sick and want to try the diet.
There aren't many options that I know of for people who can't afford the testing. The Celiac Disease Foundation didn't have any suggestions for me on the phone when I inquired about testing options for people without insurance. The National Foundation for Celiac Awareness suggested that there are sometimes free screenings like at the University of Chicago Celiac Disease Center. This is a good option, if one can get to Chicago on that particular day of the year. They also suggested contacting the closest celiac support group to see if they know of any opportunities offered through local health care providers. This is a good idea if such programs exist, if they are convenient, if the person would have any way of knowing about them and if they are running at the time the person is seeking testing.
Unfortunately, without that celiac test, many people are not given credibility for choosing to be on a gluten-free diet, even if it is for health reasons. People like Chanel are not doing it to follow a fad, or to lose weight (many are actually trying to gain weight). They are doing it because they are sick, and they are sick of being sick.
And yet, although they are dedicated to the diet,  they feel left out of support groups, conferences, etc. because they were never diagnosed with celiac disease. (I have received many emails telling me this.)
So, please — doctors, relatives, friends, colleagues — don't hold it against Chanel and others like her that they are not officially "celiac." Understand that the world of celiac testing is not perfect and not available to everyone. Believe them when they say they feel better being gluten-free. Welcome them into your support groups, include them in your research and your causes, and most importantly, share with them your gluten-free love!
Thank you, Chanel, for your story. I hope you continue to feel better!