Gluten-free cones at gelateria cici in Mill Valley, CA
Posted on June 18th, 2009 by Alison
Read 6 Comments - Add Your Own »

Last Sunday I had the pleasure of visiting gelateria cici in Mill Valley, CA (11 miles north of San Francisco). After meeting friends in the square in the center of town, we walked up to cici, specifically because I had heard that they have gluten-free cones — quite a rarity in ice cream or gelato shops!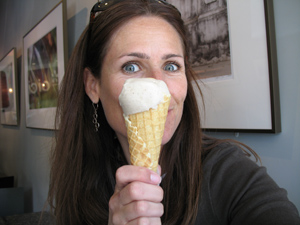 Indeed, there were gluten-free cones. In fact, there were only gluten-free cones. And not only that, but they were WAFFLE cones! I was actually a bit confused at first, making certain that they understood I wanted the gluten-free cones. The people working there must have thought I was kind of slow! It took me a little while to get it that all the cones there are gluten-free. Got it? (Note: if other allergies are a concern, the cones do contain dairy and eggs, and may contain traces of soy, but other types of gluten-free cones may be in the works for the future.)
Even someone with a dairy or nut allergy would find something here. The traditional gelato contains dairy of course, but they always offer dairy-free sorbets. In the summer they usually have 4 or more sorbet flavors (in the winter there are less because they use seasonal ingredients). At the time I was there, there was even a chocolate sorbet made with Guittard chocolate! Regarding nut allergies, the owner herself is allergic, so although there could be a gelato that contains nuts, the employees are well-aware of cross-contamination issues and know how to serve up a safe treat!
Other wonderful things about this gelato shop are that the gelato is made from scratch and is seasonal, meaning that they make flavors according to what is available fresh at a given time of year. They also use local ingredients, meaning they source ingredients from as close as possible. And, the gelato is organic (except for the Guittard chocolate, which they chose to use because it is nut-free). The owners belong to Marin Organic which is an organization that supports local farms and they make a commitment to buy from these farmers when they can.
You just can't go wrong in this gelato shop — there is something for everyone! I look forward to making this a regular pitstop for my family.
Related articles:
Allergen-Free Summer Treats Guide 2009
Product Review: Coconut Bliss Dairy-Free Ice Cream