Food Allergy Walk 2009 in San Francisco – please donate or walk!
Posted on July 13th, 2009 by Alison
ADD A COMMENT »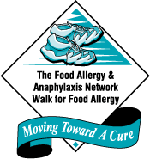 My daughter has several food allergies, ranging from moderate to severe. We carry the Epi-Pen and thankfully, because we are always so careful, have never had to use it. She starts kindergarten this fall and I have to admit I am a little nervous about the difficulties we will face as she gets older. I have high hopes that one day there will be a cure for food allergies so I am walking in the Food Allergy Walk to help raise awareness and money to find a cure.
The Food Allergy Walk 2009 in San Francisco will take place on September 12. It is a beautiful walk in Golden Gate Park with fun activities for the kids! Will you join me or donate?
To DONATE on behalf of TEAM SURE FOODS LIVING:
Click on a team member's name (it doesn't matter which one… it all goes to the overall team goal)
Click on Support Me and go through the donation process
To WALK with TEAM SURE FOODS LIVING:
Click on "Join Team Sure Foods Living" and go through the registration process. Each family member will have to be registered separately. If you are having trouble with the registration process, email me (alison AT surefoodsliving.com) and I will send you more detailed instructions.
WALK DETAILS:
When: Saturday, September 12, 2009
Time: Check-in begins at 8:30 a.m.; Walk begins at 9:30 a.m.
Location: Golden Gate Park, Music Concourse, near the Japanese Tea Garden and de Young Museum, San Francisco, CA 94118
Distance: 2 miles
WHY WE ARE WALKING
To find a cure for food allergies
To increase awareness of food allergy and the effect it has on a community
To provide understanding, hope, and an opportunity for a child with food allergy to simply be a child
To save a life!
According to the Food Allergy and Anaphylaxis Network (FAAN), more than 12 million Americans, or one in every 25, have food allergies. Included in that number are 3.1 million children. Scientists cannot explain why this number has doubled in the U.S. over the past 10 years. For many, food allergy is more than just hives – an allergic reaction can be deadly.
Over the years, FAAN has been at the forefront of progress in food allergy research. Findings from research studies have been used to change federal and state laws, improve school policies, raise public awareness, improve the daily lives of individuals with food allergy, and provide education for patients, caregivers, and health professionals.
Please donate to my team to help raise money to advance FAAN's mission of education, advocacy, research, and awareness. Read about current food allergy treatment studies to learn how some of the money is being used!
Thank you for your support!
Alison