Gluten-Free S'mores… and a giveaway!
Posted on July 14th, 2009 by Alison
Read 39 Comments - Add Your Own »
I was never much of a cake-lover, so when I got married I decided to do something different. The wedding location was my family's vacation spot where I grew up sitting around the bonfire at night, and of course, making S'mores. So that was it — we had S'mores at our wedding! My husband and I even ceremoniously roasted the marshmallows and fed each other the S'mores as if it were cake. Kind of corny (pretty sure husband was thoroughly embarrassed), but memorable (and so was the smoke!)
When I was diagnosed with celiac disease 3 months later, I said goodbye to gluten and to S'mores. I have continued to roast marshmallows over the years (they are gluten-free) and have even tried to make a sandwich using gluten-free cookies, but none really reminded me of the real thing. I even tried making mock graham crackers from scratch, but that is a lot of work and requires planning ahead.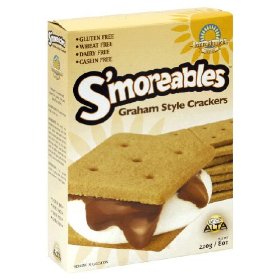 So you can see why I would be excited about a new product called S'moreables Graham Style Crackers, made by Kinnikinnick! And let me tell you, my girls are excited too. S'mores can also be dairy-free if you use dark chocolate. (Although there are no egg or nut ingredients, the box of S'moreables states that they may contain traces of eggs and tree nuts.)
The taste of these cookies is like a graham cracker, the texture crispier. One thing I noticed is that after the box had been opened for a few days, the cookies got softer and became more like a traditional graham cracker. Another thing to note is that the cookies have a line to show you where to break them, but it is totally impossible to actually break them on that line — my recommendation is not to break them and  just make a double S'more instead!
Now for the giveaway. How to enter:
Leave a comment about S'mores — making them, eating them, favorite memory of. Anything! For example, I'll let you in on my S'mores trick: stick the chocolate into the middle of the melty marshmallow instead of between the cracker and marshmallow. That way the chocolate melts too! Now your turn…
The randomly chosen winner will receive 4 different varieties of cookies from Kinnikinnick! You have until Sunday, July 19th at 5pm PST to comment (only one comment per person please). I will announce the winner on Monday so check back!