Gluten Free Cooking Spree in San Francisco Oct 30
Posted on August 8th, 2009 by Alison
Read 2 Comments - Add Your Own »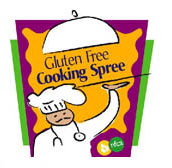 The Gluten Free Cooking Spree is coming to San Francisco! This is a fun party where you can eat gluten-free and socialize with the GF community of the Bay Area.
Here is the event information:
Watch 10 top chefs, 10 health professionals and 10 members of the media compete to make the best gluten-free meals!
The National Foundation for Celiac Awareness (NFCA) invites you to the San Francisco Gluten-Free Cooking Spree. The Gluten-Free Cooking Spree is an event that joins together the medical and lifestyle aspects of celiac disease to educate both doctors and chefs about celiac disease and the gluten-free diet.
When:
Friday, October 30, 2009
6:30pm-9:00pm
Where:
Treasure Island
Building 1 (Administration Building)
San Francisco, CA
'middle' of the San Francisco-Oakland Bay Bridge
What:
Enjoy hearty gluten-free hors d'oeuvres, desserts, wine, beer and other beverages.
Here's how it works:
* Top chefs, doctors and reporters will be put on to teams of three. Each team will have one chef, one doctor and one member of the media. Together, the doctor, chef and media representatives will work to create the best gluten-free meal.
*Â  Attendees will sample the food cooked by the chefs and enjoy a large assortment of other gluten-free food options. Come hungry!
*Â  All attendees will take home a fabulous goodie bag filled with treats from a variety of gluten-free vendors.
*Â  A three-person expert panel will judge recipes.
And more!
* Visit the Dieititans Corner to get the answers to your questions about the gluten-free lifestyle.
* A silent auction and raffle will offer guests a chance to win valuable prizes!
*Â  Enjoy the Marketplace where vendors will share samples of their products, give product coupons and sell their wares.
*  Enjoy gluten-free hors d'ouerves, desserts,  beer and wine.
Tickets:
General Admission: $50
At the Door: $75
Children (12 and under) and Students: $35
Children 5 and under: Free ($5 donation suggested)
Order tickets online
More information available at
www.CeliacCentral.org
Judges:
NFCA is proud to announce that Dr. Phillip G. Zimbardo will serve as a member of the panel of judges for the San Francisco Gluten-Free Cooking Spree. Dr. Zimbardo is Professor Emeritus of Psychology at Stanford University, two-time past president of the Western Psychological Association, and past president of the American Psychological Association.
Dr. Zimbardo is an internationally recognized scholar, educator, researcher and media personality, winning numerous awards and honors in each of these domains. He has been a Stanford University professor since 1968, having taught previously at Yale, NYU and Columbia.
Dr. Zimbardo is noted for his books that bring the study of psychology to the public. His most recent book, "The Time Paradox: The New Psychology of Time That Will Change Your Life", was published in 2008 by Free Press preceded by "The Lucifer Effect: Understanding How Good People Turn Evil" (Random House, 2007).