GoPicnic ready-to-eat gluten-free meals
Posted on August 3rd, 2009 by Alison
Read 6 Comments - Add Your Own »
People often come to this website looking for easy gluten-free to-go lunch ideas. I have given suggestions and more suggestions. And now, I'm going to tell you about a to-go lunch and snack idea that I think is pretty cool. In fact, I read about it on the website Cool Mom Picks. So there you go!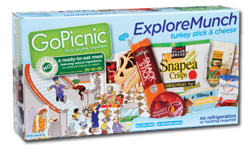 You know those boxes of snacks that are now sometimes offered on planes? GoPicnic ready-to-eat meals are just like those, except they have entirely GLUTEN-FREE ones! Plus, they are much healthier than the usual "lunchables"-type meal. (Actually, I think GoPicnic is being sold on Alaska Airlines, but not gluten-free.) These meals need no refrigeration, so they would be great in the car, on a plane or to take to camp!
There are many gluten-free choices such as Zesty Break, Go Trek, Sports Munch, Explore Munch, Safari Munch (also casein-free), and Anywhere Break. Another cool thing: 5% of sales of gluten-free products goes to the University of Maryland Center for Celiac Research!