Gluten-Free Love at the food blogger conference
Posted on September 30th, 2009 by Alison
Read 5 Comments - Add Your Own »
Last Saturday I went to a food blogger conference, called BlogHer Food, in San Francisco. This is a niche group to say the least – first you have bloggers, then food bloggers. But even more of niche? Gluten-free food bloggers! Yes, we were there in force (all 10 of us!)
I should clarify that I don't qualify as a "food blogger." I'm not creating new recipes in my kitchen every day, I'm not writing a cookbook, and I don't take 500 million photographs of my food with an expensive camera (although I'm working on taking like, one or two photos of my food creations with the camera I already own). I wish I could be more like some food bloggers who dine out all the time and write about it, but it doesn't really fit with my schedule right now (or my wallet). Instead, I consider myself a guide, a teacher, a gatherer and sharer of information about living gluten-free and allergen-free. At the center of it all, of course, is food. Which brought me to the food blogger conference and gave me a chance to meet some of the "food bloggers" who have helped me and inspired me in my own gluten-free journey.
Why am I telling you this? Because I want to introduce you to the fabulous women that I had a chance to meet in real life. They were all so nice! And so… life-like!
So here they are, the gluten-free gals… please visit their blogs!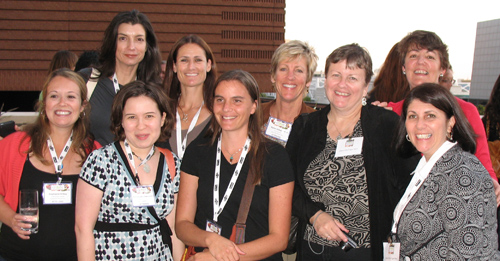 Back row:
Elana Amsterdam, of Elana's Pantry – yes, she's tall, and she fed all the starving gluten-free people homemade cookies (I ate four – thank you!) She also has a new gluten-free cookbook out! Look for a giveaway here soon.
Me, hopefully you know who I am by now
Karen Schuppert, of Cook4Seasons – looking forward to meeting with her locally and sharing gluten-free info!
Dr. Jean Layton, of Gluten-Free Organics and More! – not only is she knowledgeable but she is a lot of fun and great dancer (we found out at the after party!)
Front Row:
Other noteable people I got to meet or see again:
Shauna James Ahern, of The Gluten-Free Girl – the GF inspiration for many, I got to see her baby this time! (missing from pic above because she had to put baby to bed!)
Elise Bauer, of Simply Recipes – I thank Elise for being a teacher to other bloggers
This was the first annual conference of its kind. Hopefully there will be another one! In the meantime, I need to get to work on some new recipes. Or not.