Chicken Pozole for a cozy winter meal
Posted on December 2nd, 2009 by Alison
Read 3 Comments - Add Your Own »
So, I've been a little out of touch these past couple of weeks. I even missed Thanksgiving. No turkey, no stuffing, no pie. Don't feel sorry for me though — my family decided to check out this year and spend the holiday in Mexico! I must say that it was really nice to not have to deal with the whole gluten-free food planning and making. And although traditional Thanksgiving meals were being offered in many Mexican restaurants, we opted for a traditional Mexican meal instead.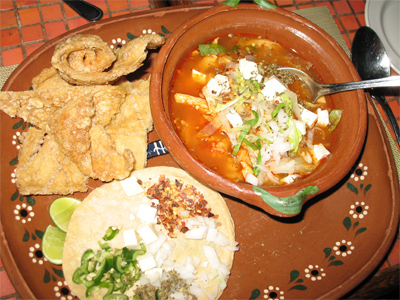 With the evening breezes blowing, we dined on Chicken Pozole, a Mexican stew that dates to pre-Columbian times.
Naturally gluten-free, pozole is a soup usually made with pork or chicken. The key ingredient is hominy, which is dried corn that is then soaked and its hull  removed. You can find canned hominy in grocery stores or specialty markets.
What also makes this soup special are the garnishes included. Here, I was offered cubed queso fresco (Mexican cheese), diced onions and jalapenos, dried oregano and chili peppers, and fresh lime, all served on a crisp corn tortilla which can be broken into pieces and added.
Also served on the plate are chicharrones, or fried pork rinds. You would never catch me eating fried pork rinds out of a bag, but these house-made ones somehow make it into my belly every time!
Mmmm, now that I have returned to winter, this stew sounds even more appealing. Delicioso!
Here are a couple pozole recipes that sound like the one I enjoyed above: