Gluten-free and allergen-free food finds at the Fancy Food Show 2010
Posted on January 22nd, 2010 by Alison
Read 4 Comments - Add Your Own »

"Gluten-Free" was named one of the top five food trends of the Winter Fancy Food Show 2010 in San Francisco! For those of us who live gluten-free, we know it is not a trend, but a diagnosis and a way of life that is fortunately becoming more common and better understood.
I had the privilege of spending all three days at the show, working in the Pamela's Products booth. It's very exciting for me to be able to help a company whose products I love and whose dedication and generosity to the gluten-free community I applaud. I will be working at several events for Pamela's in the future, so be sure to say hi if you see me!
I didn't get much time to walk around and sample the other products at the show, but I did find a few new things worth mentioning…
---
CAKES & COOKIES

Pamela's Gluten-Free Cheesecake and Coffee Cake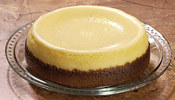 Okay, well, I can't go without first mentioning Pamela's Gluten-Free Cheesecakes and Coffee Cake since I was serving them all day and might have snuck a few (or many) in my mouth (a girl's gotta eat). I actually tried them last year when I visited their booth, but this year they are actually in stores — check your Whole Foods. It was fun watching people's expressions when they took bites of the New York Agave Sweetened or the White Chocolate Raspberry cheesecakes… and then found out they were gluten-free. I can confirm that they are amazing!
Minnie Beasley's Handmade Almond Lace

Minnie Beasley's Gluten-Free Handmade Almond Lace tastes like buttah — maybe 'cause that's the first ingredient! If you like toffee, you will love these. Ingredients: butter, almonds, sugar, heavy cream, milk, rice flour, potato starch, tapioca flour, salt, xanthan gum. Allergen information: Minnie Beasley's Cookie Co. uses good manufacturing practices to segregate ingredients in a facility that also processes wheat and may contain peanuts.
Something Good's Allergen-Free Mixes
T

his was the first time I had seen Something Good products from Australia. It's nice to have another option for mixes that are free of wheat, gluten, dairy, nuts, egg and soy. The Chocolate Mud Cake Mix and the Cupcake Mix do require eggs in the recipe, however. It looks like the Classic Bread Mix and the SuperGrain Bread Mix do not. Cute packaging.
Mary's Gone Cookies – Gluten-Free, Dairy-Free, Egg-Free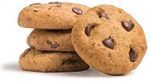 Known for crackers, Mary's Gone Crackers now has "love Cookies!" Certified organic and gluten-free, they are also free of eggs and dairy. Packed with interesting ingredients, they are formulated to be a healthy cookie if there is such a thing! I love that I have another cookie option for my gluten-free dairy-free egg-allergic daughter. Thanks Mary!
The No Bake Cookie Company's Gluten Free All Natural No Bake Cookies
A no-bake cookie is a cookie made by heating ingredients like butter, sugar, chocolate, oats, and peanut butter on the stove until melted and then dropping by spoonfuls onto waxed paper until they harden. I don't know the exact method or ingredients used by The No Bake Cookie Company, but I do know that they use certified gluten-free oats from Bob's Red Mill. And that's pretty much all you need to know because they… are… sooo… good.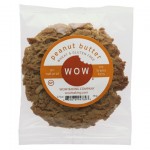 WOW Baking Company's Gluten Free Cookies
I tried WOW Baking Company's gluten-free cookies last year and got to try them again this time. They are like a giant homemade cookie  and they are delicious! I really like the Peanut Butter and Snickerdoodle flavors. They use gluten-free oats in their Oregon Oatmeal flavor. They also make cookie dough — I bet it's good too!
CANDY & TREATS & OTHER SWEETS

Happy Goat Caramel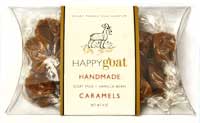 There are sweet treats everywhere you turn at this show — candy, chocolate, licorice, lolly pops, taffy, caramel corn, chocolate and more chocolate. You almost become numb to it, unless something stands out. For me, it was Happy Goat Caramel. I have become a fan of goat milk products in recent years and for many people, it is easier to digest than cow's milk. I am also a fan of caramel. Put it together and I am one happy human! (The name Happy Goat comes from the fact that the milk comes from free-range goats raised on small California farms with no pesticides, who eat a healthy diet, are free to roam and aren't separated from their mothers at birth!)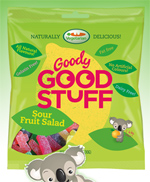 Goody Good Stuff Candy
This candy isn't available yet, but when it is, I will be buying Goody Good Stuff for my daughters (when candy is called for). Made by the company that makes Haribo, these gummy candies are gluten-free, dairy-free, egg-free, nut-free, soy-free, kosher, vegan, and all natural. I tested them on my children and they passed (not that hard to get them to eat candy, but still). They come in fun shapes and flavors, like Cola Breeze, Summer Peaches, Sour Pretzels, and Gummy Koala Bears.
Plush Puffs Gourmet Marshmallows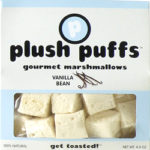 Big fluffy marshmallow squares… Plush Puffs! Plain old store-bought marshmallows are usually gluten-free, but these hand-made ones with natural ingredients are sooo much better. Plus, you get to choose from Vanilla Bean, Caramel Swirl, Chocolate Chipetta, Luscious Lemony Meringue, Peppi-Mint and seasonal specials. I even tasted Maple & Bacon flavor at the show! Yes, it had real bits of bacon in it! Not sure I will ever see that one again, but it definitely caught my attention! Every flavor except one (Simply S'mores) is gluten-free, and every flavor except one (Caramel Swirl) is free of corn syrup.

Sunny Seed Drops
Say you really need a candy-coated chocolate something. Well, in 2010 it's all about the seeds, so why not treat yourself to some Sunny Seed Drops? The little tiny drops of sunshine come in many cheerful colors with cute packaging. There is even an All Natural version with no artificial colors.

Smooze Fruit Ice
My kids already eat Smooze Fruit Ice frozen dairy-free treats, but I am excited to announce that they have a new flavor — strawberry! Made from coconut milk and fruit juice, you buy them in liquid form in their triangular containers and put them in your freezer. Kids squeeze them up as they eat them.
CHIPS & SNACKS & CRUNCHY THINGS


Wai Lana Yogi Chips
If you need another chip in your life, you might like Yogi Chips. Made by the same company that makes Yoga videos, the chips are gluten-free, soy-free, and several flavors are dairy-free. Made from cassava (yucca) and tapioca flour, they are light and crunchy. The Whole Grain Yogi Chips  also contain corn, brown rice and mung bean.
Taste Waves 3-6-9 Tortilla Chips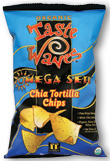 I probably wouldn't have noticed these chips if they weren't in the booth right next to us, but everyone shares food with their neighbors at the show and a bag of Taste Wave Tortilla Chips came my way. I love tortilla chips and regularly snack on them. These chips have chia seeds added to them, and though you can't taste them, apparently they are packed with nutrition. I very much enjoyed them!
Falafel Chips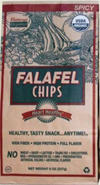 I used to be a regular at Holy Land Restaurant in Oakland where I always ordered the falafel on pita bread. It was a meal full of gluten, and one I had to give up when I started eating gluten-free. Falafel Chips, however, contain no gluten. Made of organic corn and organic beans (chickpeas, fava beans and/or black beans), and lots of spices, Falafel Chips are an interesting spin on the old chip. They come in Original or Spicy.
R.W. Garcia Gluten Free 5-Seed Crackers
R.W. Garcia is know for their tortilla chips, which are all made from non-genetically modified corn. Now they are making Gluten Free 5-Seed Crackers in three flavors: Rosemary & Garlic, Onion & Chive, and

Tellicherry Cracked Pepper (Tellicherry is an Indian peppercorn). The base of the crackers is still corn, so it's still more like a tortilla chip than a cracker, but at least it's another option for munching and adding spreads.

Harvest Roast Pumpkin Seeds
In case you haven't been paying attention, SEEDS are IN! I happen to love pumpkin seeds and so I was happy to find a company that makes only pumpkin seeds. This matters to me because I have a nut-allergic daughter and I never know if pumpkin seeds are processed with nuts. The Harvest Roast pumpkin seeds come in many flavors, such as garlic herb, honey sesame and chili lime. Delicious and nutritious!
---
There were literally thousands more products being introduced at the show. Something I found surprising (and discouraging) was that despite the growing incidence of peanut and tree nut allergies, there were SO MANY nut products! I guess nuts are fancy. At least gluten-free is now considered fancy too!
If you were at the show, and found something you'd like to mention, feel free to comment.