Roasted Cauliflower Soup Recipe with Gluten-Free Croutons
Posted on January 18th, 2010 by Alison
Read 5 Comments - Add Your Own »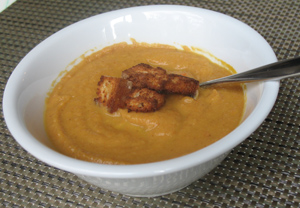 I love roasted vegetables. Pretty much any vegetable tastes great when roasted in the oven, so when thinking about something to contribute to this month's Gluten-Free Progressive Dinner Party, I thought I'd try turning some yummy roasted winter veggies into a soup.
Cauliflower is one of the cruciferous vegetables, along with broccoli, cabbage, brussel sprouts, kale and others, that is known for cancer-fighting properties. Cauliflower is an excellent source of fiber, vitamin C, and folate, vitamin B5, vitamin B6, manganese and omega-3 fatty acids. (For more nutritional information about cauliflower, including its cancer-reducing ability, visit The World's Healthiest Foods.)
Cauliflower is a winter vegetable, which means it is as its best during the winter months. Look for a cauliflower that is white with no spots on it and stay away from bags of pre-cut cauliflower! Cauliflower is low in fat and a great soup ingredient in place of the starchy potato.
The bottom line is… it's good for you! And I think you'll like the taste too…
Use the soup recipe below as is, or add in any of your own favorite spices (cumin, curry, cayenne) or garnishes (a swirl of creme fraiche, chopped fresh parsley).
Roasted Cauliflower Soup with Gluten-Free Croutons
INGREDIENTS
1 head cauliflower, cut into chunks (green stem and leaves discarded)
3 carrots, cut into chunks (peeled or not — doesn't matter!)
1 medium to large red onion, cut into chunks (definitely peel this one!)
olive oil
salt
3 cups chicken or vegetable broth, or more if you like a thinner soup (see which chicken broth is gluten-free)
2-3 teaspoons apple cider vinegar, or other vinegar, or lemon juice
gluten-free croutons, or 3 slices of any gluten-free bread
DIRECTIONS
Throw chunks of cauliflower, carrots and onion in a roasting pan or on a cookie sheet with sides.
Drizzle olive oil over all of the veggies and sprinkle with a little salt. (I use a salt grinder and do a quick grind over everything. Less is better, because you can always add salt to the soup later.) Mix the veggies around a little to evenly distribute the olive oil and salt.
Cook veggies in a 400 degree oven for 45 minutes.
Transfer the roasted vegetables to a pot on the stove and add the broth.
Bring pot to a boil, then simmer 15 minutes. Carrots should be soft when pierced with a fork — if not, simmer until they are.
Puree* the vegetables and broth to desired texture. Add more broth if a thinner consistency is desired.
Taste and adjust seasonings. Does it need more salt? Add pepper and other spices as you wish, or leave it with just salt. Add in the vinegar or lemon juice to give it a little extra flavor.
Garnish with croutons**, chopped herbs, a swirl of creme fraiche — whatever you like!
*To puree soup:
I prefer to use an immersion hand blender. Frankly, I probably wouldn't even make soup if I didn't own one of these! You stick it into the pot, push the button and it magically turns anything into soup. (I also use it to foam milk for cafe au laits in the morning!)
If you don't have one, let the contents of the pot cool for 5 to 10 minutes, then transfer to a blender or food processor and puree in batches. Be careful you don't splatter yourself with hot soup! Transfer the pureed soup back into the pot.
**To make gluten-free croutons:
This is so easy, but sometimes I forget that croutons are a nice addition to a soup or salad. To make croutons, preheat your oven to 350 degrees. Then,
Cut the slices of gluten-free bread into cubes.
Coat with olive oil.
You can do this many ways:
lay bread cubes on a baking sheet, drizzle with oil and toss them around
use a pastry brush and brush the oil on while they are in the pan
spray the cubes with oil
put cubes in a bowl and toss with olive oil
Season with salt and pepper. Other seasoning options are garlic salt, fresh or dried herbs such as basil, rosemary or thyme.
Bake in oven on a baking pan until crunchy, about 10-15 minutes. Toss the croutons with a spatula part way through for even browning.
Or you could totally cheat, like I did in the picture, and just toast the cubes in your toaster oven! As long as they're crunchy, they qualify as croutons in my opinion!
This recipe is the first stop of the Gluten Free "Light Winter Warmers" Progressive Dinner Party!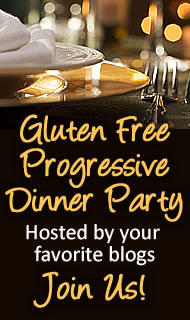 Each day this week you'll find new gluten free dishes being "served" by other bloggers. This month's offerings will warm you up during these winter months. On the lighter side, these should work with your New Year's resolutions! Follow the schedule as you would a map through a neighborhood. Stop by, leave a comment, pass on the information to your friends and have a wonderful time!
Here is the schedule (I will fill in with links to the posts each day so please check back):
Monday January 18th:
Me at Sure Foods Living
"Creamy" Potato Leek Soup from Karen at Cook4Seasons
Tuesday January 19th:
Winter Fire Roasted Tomato Basil Soup w/ Prosciutto topping from Diane at The W.H.O.L.E. Gang.
Wednesday January 20th:
Mexican Seafood Soup from Diane at The W.H.O.L.E. Gang
Vegan Un-Chicken Roasted Vegetable Soup from SeaMaiden at Book of Yum
Thursday January 21st:
Black Bean Chili with Butternut Squash & Swiss Chard from Amy at Simply Sugar and Gluten Free
Wassail (hot spiced punch) from Shirley at gluten free easily
Friday January 22nd:
Moroccan Chickpea and Potato Soup from Ali at The Whole Life Nutrition Kitchen