Introducing the Gluten Free Groupies!
Posted on March 7th, 2010 by Alison
ADD A COMMENT »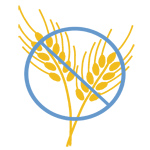 Have you ever wanted to tell someone about the new product you found, the great (or not so good) restaurant experience you had, the book or cookbook you discovered, or a recipe you tried? Now you can share your opinion on anything gluten-free by joining me in a new online community called the Gluten Free Groupies!
As a member of the Gluten Free Groupies, you can write reviews, make lists of your favorite things, add a recipe, rate products and comment on other people's reviews. It's a fun and interactive way to give your 2 cents!
To join, go to www.lunch.com/glutenfreegroupies and click Join. Then participate as much as you would like!