Osteoporosis drug could make bones break
Posted on March 8th, 2010 by Alison
Read 1 Comment - Add Your Own »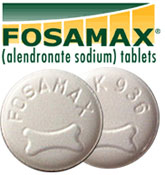 The osteoporosis drug Fosomax which is supposed to strengthen bones may in fact cause spontaneous fractures, with many women's femurs actually snapping, according to a report on ABC news. One doctor explains the problem: "When [women] are on it for five, six, seven or eight years, they lost their ability to remodel and regenerate their skeleton,"… and so the women "are very vulnerable and they will then develop problems of brittle bone." The drug has also been linked to osteonecrosis of the jaw, a bone disease known as "Dead Jaw."
I found this report so disturbing! And then I read the comments below the article on the ABC News website… all these people talking about their broken femurs! I can't believe this drug is on the market.
Another thought I have is: how many of the people being prescribed medication have been tested for celiac disease? In my opinion, this is another example of doctors treating a symptom with medication without looking for the cause. People with celiac disease are at a greater risk for developing osteoporosis or osteopenia — in fact, it is a very common symptom. If you have osteoporosis or osteopenia, please go get tested for celiac disease! Even women without any known bone issues have been prescribed the drug. If you are taking Fosomax (alendronate sodium), please check with your doctor about the risks that may be associated with this drug!
To read the original article, go to ABC News. Don't forget to read the comments.