WIN the coolest glass beverage bottle from Lifefactory!
Posted on March 22nd, 2010 by Alison
Read 115 Comments - Add Your Own »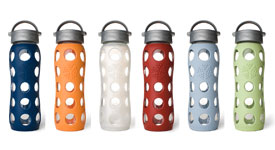 I am so excited to tell everyone about the new glass beverage bottles from Lifefactory, and do a giveaway to THREE lucky readers! I have been using one of the bottles (the orange one) for the past few months now and I LOVE it. I was privileged to get one before they were available to the public because (disclosure alert!) my husband works for Lifefactory, and I demanded that I have one!
So, let me tell you about these and why you're going to want one…
In case you missed it, they are GLASS. Yes, glass. You are most likely currently drinking out of a plastic (need I say it?) or a metal (that tastes like metal) water bottle. Besides the great environmental and health reasons why this new bottle is a necessity, the #1 reason I like this bottle is TASTE. My water tastes like water! I would never choose to drink from plastic or metal at home, and now I get to drink from glass when I am in my car, taking a water break from a volleyball game, hanging out at the park with my kids, or attending an all-day conference. I also love that the bottle has a wide mouth so I can easily drop ice cubes in. (I hurt my hand trying to whack ice cubes into my old metal drinking container.)
You might still be wondering how a glass bottle is going to make it to all of these things without breaking. The bottle has a non-toxic tight-fitting silicone sleeve that protects it from breaking, and also gives you a good grip on the bottle. The sleeves are brightly colored with a cool, modern design. My bottle attracts attention wherever I go! You don't need to take the sleeves off of the bottles — just put the whole thing in the dishwasher. My daughters have been using the Lifefactory baby bottles as water bottles (with caps instead of nipples) every day in their lunches to school for about two years now, and they still look brand new (and they haven't broken them).
To win a 22 ounce glass beverage bottle from Lifefactory, please leave a comment choosing which color you would want. The colors are: Midnight Blue, Orange, Pearl White, Red, Sky Blue, and Spring Green. I will choose THREE winners at random. You have until Friday, March 26 at 5pm PST to comment (only one comment per person please). I will notify the winners on Saturday.
For those of you who don't win, or would like to purchase more bottles, you can get 15% off the Lifefactory online store by using the discount code: go glass (with a space).
GOOD LUCK!