Bitter taste in your mouth? Could be pine nuts!
Posted on April 19th, 2010 by Alison
Read 17 Comments - Add Your Own »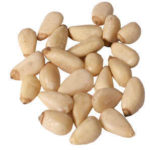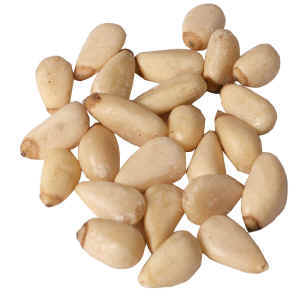 Chalk this one up to Weird Food Reactions that your doctor doesn't know about…
I went out the other night with some girlfriends and as we were deciding what to order, one of them complained to me that everything she has been eating for three days tastes bitter and leaves a metallic aftertaste. Worried that this was a sign of a health problem, she had emailed her doctor who recommended she check with her dentist first. The doctor also suggested that perhaps the bitter taste was a result of her body detoxing because she had started a gluten, dairy and sugar-free diet. (huh? makes no sense to me.)
This is where I come in:
"Did you eat pine nuts?" I asked her.
"Yes… why??"
"It's the pine nuts."
"What? The pine nuts? Yes, well, I did have a lot of pine nuts a couple of days ago. It's the pine nuts?"
"Yep."
"HOW do you know that?"
"Because it happened to
me."
About two years ago I experienced the same thing. I suddenly had a bitter taste in my mouth whenever I ate something. Didn't matter what it was — something sweet or sour, fruit, vegetables, wine or chips. Every single thing I ate tasted bitter. After it went on for a few days, I feared that this was some permanent condition and I would never enjoy eating food again! I finally turned to Google and found a forum of people discussing the bitter taste and they all realized that they had eaten pine nuts in the days prior to the bitter taste starting. I was surprised to find the cause, as were all the people in the online forum — and I was relieved! It lasted a week, and was really annoying, but at least I knew it would go away. And I didn't pay to see any specialists!
I'm not sure if I have eaten any pine nuts since then. We don't have any nuts in our house due to my daughter's nut allergy, and I don't remember if I have eaten them out at a restaurant. I had sort of forgotten about this until hearing my friend's story, and wondered how common this really is. Back to Google again to find out more…
It turns out that quite a few people have written about "Pine Mouth," as they began calling it, since my first query years ago. A search of the medical journals turned up a 2010 article in the Journal of Medical Toxicology that concluded: "'Pine mouth' appears to be an emerging problem."
The symptoms generally come on 2 days after ingesting the pine nuts, and can last up to 2 weeks! Though there has been no formal connection made, it seems that the people who were affected by pine mouth ate pine nuts that were imported from China. The China Tree Nut Association even held a national pine nut conference on November 24th, 2009, to try to find out where the bitter taste comes from!
Trader Joe's and Costco brands were mentioned often in the forums that I read. No conclusion has been made as to WHY this happens and whether some people are affected by it, while others aren't.
So, if you're pining for pine nuts, be aware that you might just be left with a bitter taste in your mouth!