Fluffy gluten-free egg-free pancakes
Posted on June 6th, 2010 by Alison
Read 7 Comments - Add Your Own »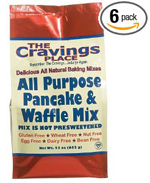 If we had to be just gluten-free in my family, that would be easy with so many great gluten-free products on the market now. But my older daughter is allergic to eggs, and many gluten-free products contain eggs or call for eggs in their recipes. Making good, fluffy gluten-free and egg-free pancakes is one of the biggest challenges.
One mix that I have found to work really well is The Cravings Place All-Purpose Pancake and Waffle Mix. None of the mixes made by The Cravings Place contain nor require the use of eggs. This mix is easy to use — you just pour out as much mix as you want, then add water until it is the right consistency for pancakes. I usually make little pancakes and they always turn out light and fluffy.
Lately I have been adding teff flour to the dry mix before adding the water. I don't measure — just dump some in. The teff ups the nutrition of the pancakes, and amazingly, the fluffiness isn't compromised. It turns the pancakes from white to brown with the teff added in, but my 5 year old daughter didn't mind, especially when I told her that teff makes people run really fast! I tried adding quinoa flour this morning, but the taste and smell of the quinoa was too strong. I'll stick with teff.
From the company's website:
"This mix was designed especially for children so the flavor is very mild. This is a great thing so depending on your dietary restictions add your favorite ingredients such as fruit, nuts, oats or flavorings to create your own yummy recipes."
Ingredients:
BROWN RICE FLOUR, WHITE RICE FLOUR, VANILLA BEAN POWDER (vanilla beans, corn based dextrose), SEA SALT, XANTHAN GUM, NON-ALUMINUM BAKING POWDER (sodium acid pyrophosphate, bicarbonate of soda, corn starch (from non GMO corn), calcium acid phosphate), BAKING SODA.
The Cravings Place mixes are produced in a dedicated allergen free facility. I buy the mixes 6 at a time on Amazon.
If you know of any other good gluten-free egg-free pancakes, feel free to leave the info in a comment!