New gluten-free bakeries in the Bay Area
Posted on June 22nd, 2010 by Alison
Read 5 Comments - Add Your Own »
It's happening, people. We are getting our own bakeries — gluten-freedom at last!
I am excited to share the news with you that you have a few new options for finding gluten-free baked goods: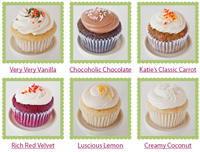 Miglet's Gluten-Free Bakery
This adorable bakery features everything from cutesy cupcakes to personal-sized quiche!
What: a dedicated gluten-free bakery, and can accommodate dairy, casein, corn, soy, egg, and nut-free orders too
Where: located at 480 San Ramon Valley Boulevard #A2 in Danville
Who: Katie Alin, owner and founder (mom is Elaine Taylor who has celiac disease and founded Camp Celiac)
Website: www.migletsgf.com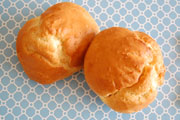 Good Chemistry Baking
With a daily menu posted on their website, you can find an array of goods, including biscuits, scones, cookies and bread.
What: a dedicated gluten-free bakery, with some dairy-free and nut-free options
Where: located at 3249 Grand Avenue in Oakland, near the Grand Lake Theater
Who: Jane O'Hara, owner and baker (has celiac disease)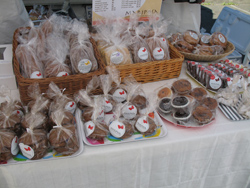 Mariposa Baking Company
Mariposa isn't new (it was started in 2004), but what is new is that it is at the Marin Sunday Farmer's Market! Yippee! There are also many new products being offered, like cinnamon rolls and breads.
What: a dedicated gluten-free bakery
Where:

located at 5427 Telegraph Ave, Unit D3 in Oakland, in the Temescal neighborhood
also in a kiosk in the Ferry Building in San Francisco
also in the Sunday Farmer's Market at the Civic Center in San Rafael in Marin County

Who: Patti Furey Crane, owner and founder (was diagnosed with MS and then learned she had a gluten allergy)
Website: www.mariposabaking.com