Food Allergy Walk 2010 in San Francisco Sept 25
Posted on September 21st, 2010 by Alison
Read 2 Comments - Add Your Own »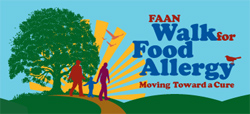 Show your support for food allergy awareness this weekend in San Francisco! I regret that I cannot attend this year, as I have the last two years, and though I have not asked for donations, I will personally be donating to FAAN and encourage you to do so also.
Walk Details:
Date: Saturday, September 25, 2010
Time: Check-in begins at 8:30 a.m.; Walk begins at 9:30 a.m.
Location: Golden Gate Park – Music Concourse Bandshell, between the de Young Museum and CA Academy of Sciences
Distance: 2 miles
Restrictions: No pets, glass bottles, bikes, roller skates, or skate boards. Baby strollers and wagons are welcomed.
To Donate:
Donate to a San Francisco walker or team or to anyone walking for FAAN all over the country.
WHY WALK or DONATE?
To find a cure for food allergies
To increase awareness of food allergy and the effect it has on a community
To provide understanding, hope, and an opportunity for a child with food allergy to simply be a child
To save a life!
According to the Food Allergy and Anaphylaxis Network (FAAN), more than 12 million Americans, or one in every 25, have food allergies. Included in that number are 3.1 million children. The incidence of peanut allergy doubled in children over a five-year period (1997-2002). For many, food allergy is more than just hives – an allergic reaction can be deadly.
Over the years, FAAN has been at the forefront of progress in food allergy research. Findings from research studies have been used to change federal and state laws, improve school policies, raise public awareness, improve the daily lives of individuals with food allergy, and provide education for patients, caregivers, and health professionals.
Please donate or walk to help raise money to advance FAAN's mission of education, advocacy, research, and awareness.