Solano County Gluten-Free Fair October 10, 2010
Posted on September 15th, 2010 by Alison
Read 4 Comments - Add Your Own »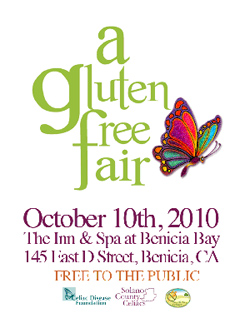 Don't miss this gluten-free event!
Come join Solano County Celiacs, North Bay Celiacs, and Sacramento Celiacs for A Gluten-Free Fair on October 10th, 2010 in beautiful downtown Benicia, CA.
A Gluten-Free Fair will be from 1PM-5PM, with a 3PM raffle benefiting the Celiac Disease Foundation. There will be approximately 30 gluten-free vendors, live entertainment by Euth and Andrew Beal. Guests will receive goodie bags and the opportunity to participate in the Camp Celiac Silent Auction benefiting Camp Celiac and their goal of expanding to a 2 week camp for Celiac children all over Northern California. Face painting will also be available for kids and brave adults!
Location: The Inn and Spa at Benicia Bay, 145 East D Street, Benicia, CA 94510.
For more info please visit: www.solanocountyceliacs.org
A Gluten-Free Fair is FREE to the public.
Crystal Brown, president of the Solano County Celiacs has been hard at work! If you would like to volunteer for this event, please visit the Volunteer Page.