Meet some other bloggers who inspire me
Posted on October 22nd, 2010 by Alison
Read 3 Comments - Add Your Own »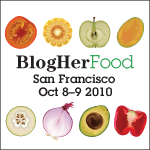 Two weeks ago, I attended the BlogHer Food Conference in San Francisco — yes, it's what it sounds like: female food bloggers getting together to discuss writing about food on the web. But it was much more than that. For me, it was a chance to be inspired by the work that amazing women (and some men too) are doing, and a time to reflect on my own blog and its meaning to me and to others.
The events were really fun, but more important to me were several people there who had a great impact on me — people who are blogging with a higher goal in mind and who are effecting change in their communities. I would like to take this opportunity to introduce some of them to you!
Mrs Q. of Fed Up With Lunch – I really got to spend some quality time with the anonymous Mrs. Q who is eating school lunch every day with her students at the elementary school where she is a teacher, and documenting it with photos and commentary. She had no idea when she embarked on this project that it would garner so much attention, even from Jamie Oliver, the Food Revolution guy himself! Mrs. Q is a down-to-earth, humble, personable and well-meaning person who I hope you get to meet someday (when she reveals her real identity!) And no, I don't know her real name.
Diana from Dianasaur Dishes — this woman makes you go "wow." After living on a dollar a day herself in hard times, she learned that she could eat well rather than survive on cheap fast food. Now she teaches others how to do it. As she said at the conference, "Being poor doesn't mean you have to eat poorly." I didn't spend time with her other than a brief introduction, but I really valued her insights when she was a speaker on a panel.
Michelle Stern of What's Cooking — Michelle is teaching kids to cook healthy food, and to give back to the community and the world! I am proud to live in the same area as this inspiring woman — she's the reason that my daughter's elementary school now has a salad bar for kids that buy school lunch (many of these kids are the ones who so need this healthy option!) I look forward to  spending more time with Michelle in the future.
Naomi Starkman of Civil Eats — This is a really smart woman who is really committed to getting people to think critically about our food system. She led the Food Policy panel that I attended, and I learned that I have a lot to learn… but at least I have her website as a resource.
Maria from Nature's Path Foods — Okay, she's not a blogger, but she ROCKS! She works in marketing for Nature's Path because she believes in the ideals of the company. My favorite line of hers in one of the sessions I attended was something like, "It's time we held the food companies accountable for their actions… who's with me?" I'm with you Maria! In recent months I have been thinking about how shocking it is that food companies can produce what they produce and actually allow people to eat it! So, yes Maria, I'm totally with you.
Jeffrey Strain of The Penny Experiment — I don't how many people got to meet Jeffrey, but I happened to sit by him on the shuttle to the after party. Humbly and quietly, he told me about the amazing goal he has set out to achieve with his "Penny Experiment": to turn one penny into a million dollars of donated food. He has mastered the ways of coupons and is giving all the food he earns to food banks, and is encouraging others to do the same. He even did a challenge where he showed that one could eat well on $1 per day, being creative with coupons (next he wants to try doing it with organic food he told me). Another creative idea he had was to use pennies as the basis for artists to create a piece that he would sell to raise money to buy food for food banks. I just can't help but admire what this guy is doing.
And of course, there are the gluten-free gals! Some I had met before and some I met for the first time. There were so many of us that the after party held at Le Cordon Bleu cooking school in San Francisco was entirely gluten-free (and delicious)! Boy, did we feel special, and grateful!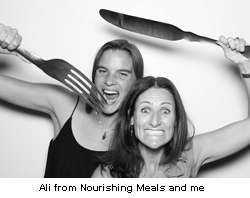 Here are the gluten-free bloggers (and a couple of other food allergy bloggers) that I got to meet or reconnect with — each one of them inspires me in some way:
I know I have left some people out. While I got to have great conversations with many people, it was also a whirlwind and I felt like I didn't have enough time to talk to everyone I wanted to (I also had to miss part of the conference, so there was a lot of time lost). Please let me know in the comments if we met! Thanks to BlogHer for putting on such a great event.