New gluten-free store opening in Bay Area
Posted on October 17th, 2010 by Alison
Read 3 Comments - Add Your Own »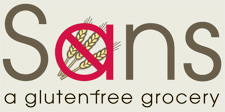 I am happy to announce that Sans Gluten-Free Grocery located in San Rafael, California, is opening its doors on October 31st!
A message from its owners:
"Sans Gluten-Free Grocery is the Bay Area's one-stop gluten-free grocery store offering the largest selection of gluten-free goods in a dedicated facility by a caring and knowledgeable staff. Â Sister and brother owners, Marisa and Chad North, started Sans out of their lifelong commitment to a gluten-free lifestyle and desire to help others with gluten sensitivities. Â To read more, please visit our website at www.sansglutenfreegrocery.com or find us on Facebook.
We hope to see you there!"
Sans will hold their Grand Opening on 10/31/10 from 12-5pm at 821 B Street in San Rafael, CA.