See's Candies Gluten and Allergen List 2010
Posted on December 21st, 2010 by Alison
Read 4 Comments - Add Your Own »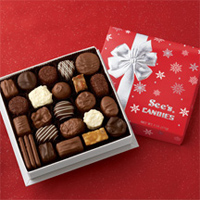 If I have a weakness during the holidays, it is See's candies. As soon as a box is opened, my willpower goes out the window. See's candies has an allergen list on their website, which may be different from the information I posted on See's candies allergy information in 2008.
The current list is as follows from the
CONSUMER AFFAIRS DEPT.
PO Box 93024
Long Beach, CA 90809-3024
(800) 789-7337
See's Allergen Information (valid July 1, 2010 – December 31, 2010)
We have listed the most common food allergy inquiries below. If you do not see a particular allergen listed or would like additional information, please contact See's Consumer Affairs Department at (800) 789-7337 and one of our representatives will answer your questions.
Egg-Free
These products are egg-free:
All Foiled Novelties Milk Chocolate Drops
62% Premium Dark Bar Nonpareil Jelly Eggs
Assorted Sugar Sticks Peanut Brittle
Black Cherry Lollypop Peppermint Twists
Butterscotch Little Pop® Pumpkin Spice Lollypop
Butterscotch Lollypop Root Beer Lollypop
Café Latté Little Pop® Semi-Sweet Chocolate Chips
Café Latté Lollypop Sour Bats
Chocolate Little Pop® Sour Bunnies
Chocolate Lollypop Sour Heart
Cinnamon Lollypop Sour Stars
Citrus Twists Sugar Free Almond Cluster
Dark Chocolate Almond Bar Sugar Free Dark Bar
Fancy Mixed Nuts Sugar Free Peanut Brittle
Hot Hearts Sugar Free Peanut Cluster
Jelly Bean Eggs Sugar Free Walnut Cluster
Licorice Medallions® Toffee-ettes®
Milk Chocolate Bar Vanilla Little Pop®
Milk Chocolate Bar w/ Almonds Vanilla Lollypop
Milk Chocolate Bar w/ Toffee Nuggets
Soy-Free
These products are soy-free:
Citrus Twists Peppermint Twists
Fancy Mixed Nuts Sour Bats
Hot Hearts Sour Bunnies
Jelly Bean Eggs Sour Hearts
Licorice Medallions® Sour Stars
Nonpareil Jelly Eggs Sugar Free Peanut Brittle
Peanut Brittle
Nut-Free
These products are nut-free:
Assorted Sugar Sticks Milk Chocolate Drops
Black Cherry Lollypop Nonpareil Jelly Eggs
Butterscotch Little Pop® Peppermint Twists
Butterscotch Lollypop Pumpkin Spice Lollypop
Café Latté Little Pop® Root Beer Lollypop
Café Latté Lollypop Semi-Sweet Chocolate Chips
Chocolate Little Pop® Sour Bats
Chocolate Lollypop Sour Bunnies
Cinnamon Lollypop Sour Hearts
Citrus Twists Sour Stars
Hot Hearts Vanilla Little Pop®
Jelly Bean Eggs Vanilla Lollypop
Licorice Medallions®
Dairy-Free
These products are dairy-free:
Citrus Twists Peppermint Twists
Fancy Mixed Nuts Sour Bats
Hot Hearts Sour Bunnies
Jelly Bean Eggs Sour Hearts
Licorice® Medallions Sour Stars
Nonpareil Jelly Eggs Sugar Sticks
Gluten
These products contain gluten:
Bordeaux Heart (3 oz) Halloween Orange and Chocolate Creams
Candy Canes Lemon Truffle with decoration
Climber Canes Mayfair Egg (4.2 oz)
Chocolate Butter Egg (6 oz) Orange Pumpkin (0.8 oz)
Chocolate Butter with Walnut Egg (7.5 oz) Peanut Butter Egg (4 oz)
Chocolate Walnut Heart (3 oz) Peanut Butter Heart (3 oz)
Dark Chocolate Butter Egg (4 oz) Puppet Candy Sticks
Dark Raspberry Heart (3 oz) Raspberry Truffle with decoration
Egg Nog Truffle (0.8 oz) Strawberry Truffle with decoration
Thanksgiving Chocolate Creams