Camp Celiac registration starts February 1, 2011
Posted on January 4th, 2011 by Alison
Read 3 Comments - Add Your Own »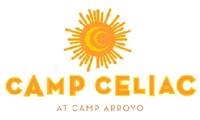 You might not be thinking about summer while it's still winter, but if you are considering sending your child to Camp Celiac, a wonderful gluten-free camp in northern California, mark your calendars now! Registration begins February 1 and fills up fast. Thanks to the Taylor Family Foundation, and other donations and volunteers, Camp Celiac will offer two weeks this year instead of one to allow more kids the opportunity to eat delicious gluten-free food and do camp activities such as a ropes course, rock climbing, zip line, boating, swimming, and outdoor sports.
**For 2011 there will be TWO separate weeks of camp (each with a different group of campers):
Week 1:Â  Thurs, July 21st- Monday, July 25th, 2011
Week 2:Â  Monday, July 25th – Friday, July 29th, 2011
Vendor Fair for both groups to be held on Monday, July 25th.
Campers can indicate which of the two weeks they prefer to attend.  For 2011, the second week is tentatively designated for campers who attended in prior years (to help maintain prior contacts and friendships), although campers can express a preference for either week.
Priority is given to campers from Northern California. All campers from Northern California who register between Feb 1st and Feb 14th will be given equal priority if a completed registration is received; i.e. there is no advantage to registering on February 1st rather than February 14th. For more information about how to sign up for this camp, visit the registration page at CeliacCamp.com.
To read a short interview with my relative who attends the camp every year, you can read my post about the camp from last year.