Spectrum shortening – new butter flavor, still dairy-free
Posted on January 3rd, 2011 by Alison
Read 14 Comments - Add Your Own »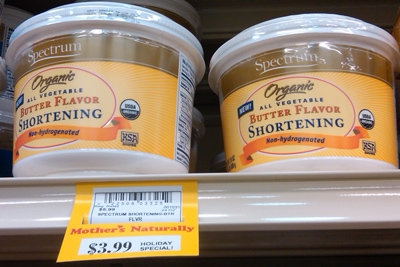 Looking for a dairy-free substitute for baking? Instead of butter or margarine, I have used Spectrum Organic Shortening made from palm oil. It works well, although it has such a neutral flavor that it doesn't
give baked goods the same buttery taste as those made with butter or margarine. Problem solved: Spectrum's new Organic Butter Flavor Shortening!
I have only seen this product in one store so far, Mother's Market in Orange County, California (I LOVE this market — incredible selection of gluten-free and other allergen-free foods). It isn't even shown on the website yet, but I called the company and they gave me the ingredients: Organic palm oil, natural butter flavor (non-dairy), annatto and turmeric for color.
I love that more companies are accommodating dairy allergies with products like these.