How to Make Soft and Chewy Rice Crispy Treats Gluten-Free and Dairy-Free
Posted on April 17th, 2011 by Alison
Read 9 Comments - Add Your Own »
The first time I made Rice Crispy Treats, they turned out hard as a rock. After many attempts, I have a yummy and soft Rice Crispy Treat recipe, and it's gluten-free and dairy-free too!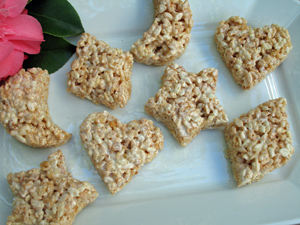 The key to making good Rice Crispy Treats is in both the ingredients and the technique. The ingredients in my recipe are different from the traditional Rice Krispies version. First of all, IÂ  don't use Rice Krispies because they are not gluten-free (they contain barley malt). This is changing in June 2011 — if you haven't heard yet, Kellogg's Rice Krispies is going gluten-free. This is wonderful news for so many families, and evidence of the growing and powerful gluten-free market.
I personally will continue to buy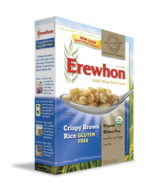 Erewhon Crispy Brown Rice Gluten Free Cereal because I like the ingredients better: Organic brown rice, Organic brown rice syrup, Sea salt. (The new Rice Krispies will contain whole grain brown rice, sugar, salt and BHT.) Erewhon compares in taste and crispiness to Rice Krispies, and it has been a staple in my house for years.
The next change I made to the traditional recipe was to use dairy-free butter. I used Earth Balance Soy-Free Buttery Spread, and the result was soft and chewy. You can also use coconut oil, which will result in a chewy but not as soft treat with a hint of coconut taste.
Another difference in my recipe is a higher marshmallow to cereal ratio. I have always felt that rice crispy treats never had enough marshmallow, so I fixed that problem!
I discovered after trial and error that technique is important. You must slowly heat the marshmallows or you will get a rock-hard treat.
I hope you enjoy!
Gluten-Free Dairy-Free Soft and Chewy Rice Crispy Marshmallow Treats
Ingredients:
Easy to remember! 4-4-4 (or 2-2-2 if you want just a small batch)
4 tablespoons Earth Balance dairy-free butter or coconut oil (coconut oil will result in crunchier treat with a hint of coconut flavor)
4 cups mini marshmallows
4 cups crispy rice cereal (I prefer Erewhon Gluten-Free)
Directions:
Heat dairy-free butter or coconut oil on low heat until almost melted.
Add marshmallow and heat S-L-O-W-L-Y in a large saucepan, with little to no stirring, until the marshmallows are almost melded together. Be patient.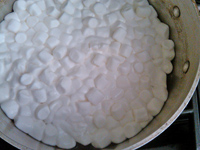 Stir gently until the marshmallows resemble marshmallow cream. The marshmallow cream should be light and fluffy. If you heat too quickly, it will become tough and sticky, making for a tough treat. If using coconut oil, it will seem like the oil is not stirring in at first, but gently continue to incorporate it in until you don't see any more in the edges of the pan.

When it is creamy and the butter or oil is blended in, turn off the heat, and pour the rice cereal into the pan, gently blending the marshmallow with the cereal until evenly distributed.

Pour into any kind of greased pan.
Cut the treats with cookie cutters while warm or cool. If using coconut oil, it is better to cut the treats while warm, as they will harden. To cut, flip the treats out of the pan onto a cutting board. Cut with a knife or use cookie cutters. If using cookie cutters, you may have to run a knife along the edge to break the marshmallow strands. If the edges of the shapes turn out a bit rough, simply mold the edges with your hands to make smooth.

When cool, store in an airtight container or plastic bag.
Shapes can be frosted too!