Tanka Bars and Bites (Win Stuff Wednesday!)
Posted on April 13th, 2011 by Alison
Read 33 Comments - Add Your Own »
If you haven't tried Tanka Bars or Tanka Bites yet, you might think buffalo and cranberry is an odd combination, but let me tell you — it works! Think beef jerky, but softer, moister and sweeter. The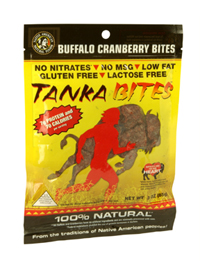 combination of buffalo and cranberry is based on a centuries-old traditional Native American recipe, and is surprisingly good together.
In addition to the bars and bites, there are Tanka Wild Sticks (contain wild rice) and Tanka Dogs. Free of gluten, dairy (except for the Tanka Dogs which have milk powder), nuts, soy, and nitrates, Tanka Products are made from 100% prairie-fed buffalo meat sourced from as many Native American ranchers as possible. This is a great source of lean protein.
And the mission of the company is so lovely: "to heal the people and our Mother Earth by building a company that innovates real food products based on the traditional values of Native American respect for all living things by living in balance with mind, body, and spirit." If that statement doesn't move you, watch this video — these are real people behind this product. Such a great story.

Now the fun part — you have a chance to win a variety pack of Tanka products! Just leave a comment about how you get protein in yours or your kids' diets. Giveway ends Friday, April 15 at midnight PST. I will announce the winner in the comments.
If you don't win, you can purchase Tanka Bars and Tanka Bites online or ask for them in your natural foods store.
Remember to check back every week for Win Stuff Wednesday!