Gluten Intolerance Group of Marin June 2011 Meeting
Posted on May 17th, 2011 by Alison
Comments Off

on Gluten Intolerance Group of Marin June 2011 Meeting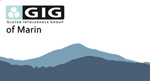 Discussing the Challenges of Gluten-Free Dining
Our next meeting of the Gluten Intolerance Group of Marin will take place on Tuesday, June 7 at 7:00pm.
Gluten-free is a hot restaurant trend, but how much do restaurants know about safely serving a gluten-free meal? Alison St. Sure of Sure Foods Living will discuss the issues surrounding, and the challenges of, gluten-free dining. You will also hear from a panel of restaurateurs, including the owners of Amici's Pizza, Sol Food and Lotus Indian Restaurants, about what it takes to accommodate the gluten-free diner. They will share the difficulties they have faced and the strategies they employ for serving gluten-free meals. Bring your friends and your questions about eating out gluten free.
Whether you have celiac disease, gluten sensitivity, or are learning more about gluten free living for yourself, family or friends, we welcome you to the GIG of Marin. New members, friends, and loved ones are always welcome.
As always, we request that you RSVP to this event by emailing us at: glutenfreemarin@yahoo.com or on our Facebook page
The Gluten Intolerance Group of Marin will meet:
Tuesday, June 7

7:00 to 9:00pm

Community Room at Corte Madera Town Center (upstairs at PF Chang's end) 770 Tamalpais Dr. Suite 201, Corte Madera, CA, 94925
We look forward to seeing you!