Lifefactory Glass Bottle Winners and Discount Code
Posted on May 3rd, 2011 by Alison
Read 13 Comments - Add Your Own »
I have picked the winners of the glass bottles from Lifefactory!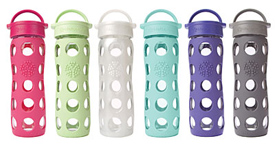 First, let me say that it was totally random. Second, I want to tell you that since there were so many entries (153!) I just couldn't stop at four bottles, so I decided to add two more winners! Yay!
Even if you aren't a winner, you really still are, because
a) now you know about my favorite water vessel, and
b) you get a special discount of 20% online, using code surefoods20 until June 30, 2011 (UPDATE: The discount code was terminated on May 31st because it was posted on coupon sites – I apologize). By the way, these make awesome gifts. Check out the baby and kid bottles and safe teethers. We use everything in our house (well, not the teethers — but I give them to friends with babies. I wish this stuff was around when mine were babies).
And now, for the winners:
#141 Cori, who according to her blog is on a weight-loss journey. This bottle full of clean water should help! Cori said "I would love the 22 oz midnight blue!!"
#103 Shirley, who is one of my gluten-free blogging buddies! I can't believe you won Shirley. I'm so glad you get one! Shirley said, "I actually got to see some of the Lifefactory bottles being used by folks at the Expo. Loved them!
I'd love the larger size in midnight blue." She was talking about the Gluten-Free Allergy-Free Expo by the way.
#24 Michelle, another one of my blogging buddies! She is one of the cleanest, greenest gals around, so I know she will appreciate this bottle! She said, "Hurray for safe bottles! Either size is great – I love spring green
"
#110 Venessa, who said, "I currently rotate between a couple of metal bottles, but I would love to try this one. It has an awesome look too. I'd like the 22oz. bottle in RED. Thanks! so much for this opportunity."
#98 Lynette Harris, who said, "Would LOVE the 16 oz in Graphite! We are always on the go with sports activities, and this would be awesome! How fun!"
#33 @mpv61 (Melanie) who said, "I would love a 22 ounce Spring Green! I've never seen these before; they're very stylish. And we could all use more hydration!"
Thanks everyone for entering and many of you for your nice comments about my blog. And thanks to Lifefactory, for this giveaway and for making these amazing products!