The National Foundation for Celiac Awareness
Posted on May 31st, 2011 by Alison
Read 1 Comment - Add Your Own »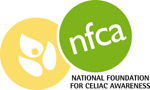 If you are not yet familiar with the National Foundation for Celiac Awareness (NFCA), it's time to get acquainted! Founded by Alice Bast in 2003 after her own struggle with obtaining a diagnosis of celiac disease, the NFCA's primary goal has been to raise awareness of celiac disease and gluten intolerance among the general public and the healthcare community.
The NFCA website has excellent resources, such as:
I am happy that I was chosen for NFCA's "Blogger-A-Day The Gluten-Free Way" during the Celiac Awareness Month of May. I am the final blogger profiled, but you can read about all the other bloggers and see links to their favorite posts by going to the NFCA's Celiac Central blog.
Thanks to the NFCA for raising awareness!