California Pizza Kitchen offers gluten-free pizza
Posted on June 29th, 2011 by Alison
Read 7 Comments - Add Your Own »
California Pizza Kitchen has officially launched a gluten-free crust. In an email sent to me today, it was announced:
"The wait is over! Today California Pizza Kitchen (CPK) has launched gluten free pizza crust, making 29 of their original pizzas available gluten free.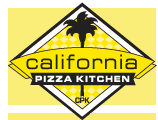 CPK has taken notice of the increased demand with more than 3 million Americans affected by Celiac Disease and created a specialty menu with various gluten free items. Among the 29 different gluten free pizzas available is America's favorite, The Original BBQ Chicken pizza, the Pear & Gorgonzola pizza and the Wild Mushroom pizza. CPK also offers other gluten free appetizers, soups, salads, specialties, kids items and desserts to choose from on their current menu."
On their website, it states "Gluten-Free crust available upon request" and that the pizzas that not gluten-free are the Thai Chicken and Roasted Artichoke + Spinach.
There are over 230 CPK locations in the U.S., so hopefully there is one near you! I have no idea if they are fully trained in how to safely serve the gluten-free diner. Let's hope so, and that they are aware of the emotions of the gluten-free diner! If you go, be sure to report back here about your experience!