Tragic deaths remind us to take food allergies seriously
Posted on August 29th, 2011 by Alison
Read 2 Comments - Add Your Own »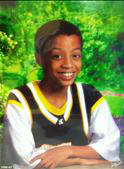 I'm in tears as I watch an interview with the amazingly composed father of Jharell Dillard, a teenage boy who died last week from anaphylactic shock after eating a chocolate chip cookie that he didn't know contained nuts. The cookie was given to him by his aunt by mistake. I feel such pain for this family and fear of losing my own daughter like this. It can happen so fast, and so easily, which is why it is so important to always – always – carry an Epi-Pen. Unfortunately, this boy didn't have one with him because he was always so careful. As careful as one is, accidents can happen.
As if one death isn't enough of a reminder, there are two more in recent news.
A 20 year old college student, also in Georgia, died after eating at the dining hall. The full story is here.
A young Bay Area man died just last month after eating a salad that contained nuts. He made the news because he was a key witness in a crime, but hopefully his legacy will be to raise money for food allergy awareness and research, as his friends and family are walking in his honor at the 2011 Food Allergy Walk in San Jose, CA.
I don't mean to be morbid, but I am still haunted by the horrible story of a 7th grader who died at school in Chicago last December, and the tragedy of BJ Hom, an 18 year old who lost his life while vacationing with his family in Mexico. There is a memorial fundraising run in his honor.
These are reminders to be vigilant about food and to carry medicine at all times, no matter how mild past reactions have been.

Here are some important facts most people probably don't know about food allergies, according to the Food Allergy and Anaphylaxis Network (FAAN):
The severity of a person's allergic reactions to food cannot be predicted from previous reactions. Someone whose reactions have been mild in the past might react more severely during a next episode. A FAAN review of food allergy fatalities found that most of the people had never had a severe allergic reaction until the one that caused their death. Thus, all food allergies must be taken seriously.
The incidence of peanut and tree nut allergy among children appears to have tripled between 1997 and 2008.
Even trace amounts of a food allergen can cause a reaction.
Most people who've had an allergic reaction to something they ate thought that it was safe.
Early administration of epinephrine (adrenaline) is crucial to successfully treating anaphylactic reactions. Epinephrine is available by prescription in a self-injectable device (EpiPen® or Twinject®).
A study of fatal reactions in children and adolescents found that most occurred at school, and were associated with significant delays in treating with epinephrine.
There are no significant risks to giving epinephrine even if someone isn't having an allergic reaction, unless one has a serious heart condition.
Awareness and education of those around us is the key to keeping our children safe!