Miglet's Bakery offers delicious gluten-free and allergen-free treats
Posted on September 23rd, 2011 by Alison
Read 4 Comments - Add Your Own »
Would you like to walk into a bakery, a real bakery, and find not one, not two, but a whole case of gluten-free treats to choose from? You can — at Miglet's Gluten-Free Bakery in Danville, CA. The bakery was started and is owned by Katie Alin, whose mother Elaine Taylor has celiac disease (Elaine is known and loved in the gluten-free community for creating Camp Celiac, a gluten-free camp for kids). Katie worked in the Whole Foods bakery before venturing into gluten-free baking, and now her cupcakes and other treats are enjoyed by those who eat gluten-free, and also by those who don't.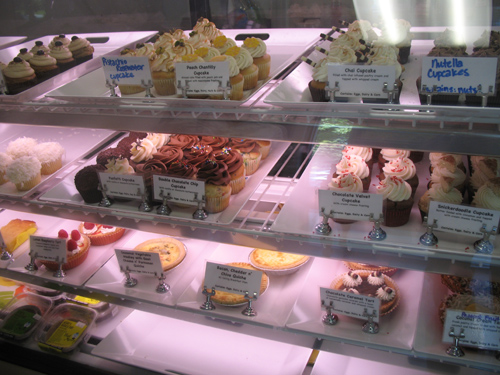 The cupcakes are beautiful, inventive and detailed, and I can attest that the offerings at Miglet's are delicious! On a recent trip to the bakery I bought a variety of things to try and share with my family: a cinnamon roll (for my gluten-free dad who used to love them), a maple glazed donut, lemon raspberry cupcakes (also dairy, egg and nut-free), a chocolate caramel tart (also dairy, egg and nut-free), chocolate chip scones and some cookies (also dairy, egg and nut-free), and some frozen breadsticks. I then asked Katie what I should get as a splurge for myself and she recommended the Nutella cupcake, which is a hazelnut chocolate cake topped with Nutella buttercream. Oh. my. yum. I actually ate it in my car in the parking lot and felt a little weird as I was shoving it my face and moaning out loud. It was that good. I think it might have been the best cupcake I have ever had. (Notice I didn't say best gluten-free cupcake.)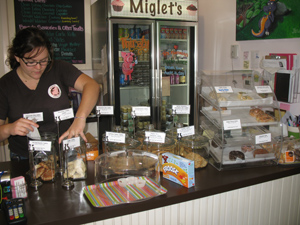 Hopefully I'm not building it up too much — I don't think I am — but let me know in the comments if you have been to Miglet's and what you
thought! I am also grateful to them for making cupcakes and mini-cupcakes that I can buy at Sans Gluten-Free Grocery and put in my freezer for the birthday parties that my kids go to. These are also dairy, egg, and nut-free.
The best way to know what's happening at Miglet's is to follow them on Facebook, where they update what flavors of cupcakes they have that day and also what else they are making, like quiche! If you don't live in the area, you should probably not follow them — you will only be sad and disappointed that you don't live nearby.