SunButter Balls Recipe – A healthy and allergen-free snack
Posted on October 20th, 2011 by Alison
Read 4 Comments - Add Your Own »
These SunButter Balls are much better than Schweddy Balls 😉 and they are gluten-free, dairy-free, egg-free, nut and peanut-free, and soy-free! The credit for this recipe goes to my sister, Leslie, who lovingly adapted it so that my daughter could eat it too. She also used healthy ingredients to give these little snacks a nutritional punch!
This is a great recipe to make with kids. They love to make the balls and roll them in the cereal! Once coated, keep them (the balls, not the kids) in the refrigerator to have as a healthy snack, to pack in lunches, or for protein on the go. The cereal on the outside, in addition to providing a little crunch, prevents them from being sticky.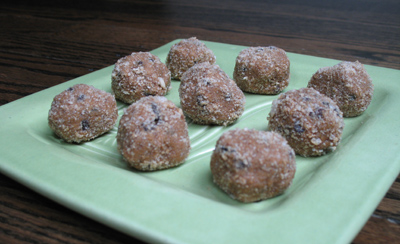 To read the recipe for Sunbutter Balls, click over to
my post on the Attune Foods blog!