Gluten Intolerance Group of Marin December 2011 Guest Speaker & Potluck
Posted on November 15th, 2011 by Alison
Comments Off

on Gluten Intolerance Group of Marin December 2011 Guest Speaker & Potluck

Our next meeting of the Gluten Intolerance Group of Marin will take place on Tuesday, December 6th at 6:30.
Like our past holiday meetings, we will have a special guest and a potluck. This year we will welcome New York Times best selling author and award-winning blogger, Stephanie O'Dea.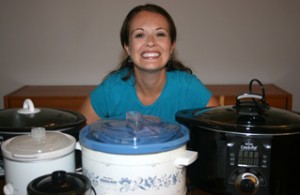 Stephanie O'Dea's websites and books have reached more than 12 million people from all over the world. Her award-winning blog, A Year of Slow Cooking, spawned two cookbooks: Make it Fast, Cook it Slow and More Make it Fast, Cook it Slow. Because one of her three daughters has celiac disease, all the recipes in both cookbooks are completely gluten free and her family lives gluten-free.
In her appearances on Good Morning America, The Rachael Ray Show, and in Real Simple Magazine, Woman's World, and Oprah.com, Stephanie is known and loved for her down-to-earth, and often hilarious, style.
Come get some crock-pot tips from Stephanie and enjoy our gluten-free potluck celebration! Bring your favorite savory or sweet dish to share, and please include a card with all of the ingredients, as we have members with multiple food sensitivities. OH – and did I mention that Stephanie will be raffling off books… and a crock-pot?! Now I got your attention!
Please let your gluten free friends and family know about this fun event. The meeting is free; however, we appreciate a donation of $5 or more to cover the costs of renting the meeting room, printing the handouts, etc.
Whether you have celiac disease, gluten sensitivity, or are learning more about gluten free living for yourself, family or friends, we welcome you to the GIG of Marin. New members, friends, and loved ones are always welcome.
As always, we request that you RSVP to this event by emailing us at: glutenfreemarin@yahoo.com.
The Gluten Intolerance Group of Marin will meet:
Tuesday, December 6th

6:30 to 9:00pm

Community Room at Corte Madera Town Center (upstairs at PF Chang's end) 770 Tamalpais Dr. Suite 201, Corte Madera, CA, 94925
We look forward to seeing you!