Simple Corn Flake Crusted Fish Sticks Recipe (gluten, dairy, and egg-free too!)
Posted on November 17th, 2011 by Alison
Read 1 Comment - Add Your Own »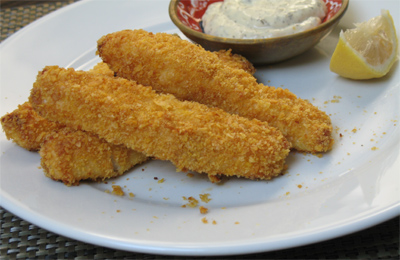 My memory of fish sticks is the processed perfectly-machine-cut kind that they served in my elementary school cafeteria. A peek at the ingredients of those fish sticks would reveal a long list that includes gluten, dairy, MSG, and preservatives. But you can make healthy fish sticks at home — and I promise, it's really simple.
I use corn flakes for the breading of these fish sticks and I recommend using Erewhon Corn Flakes, because they are perfectly crispy and contain only two ingredients: Organic Milled Corn and Sea Salt. Other brands of corn flakes, especially gluten-free ones, add sweeteners, which I don't really want with fish.
For this super-easy gluten-free, dairy-free and egg-free recipe, read my post on the Attune Foods blog!
Simple Corn-Flake Crusted Fish Sticks Recipe