Turning off food allergies – have researchers found a way?
Posted on November 7th, 2011 by Alison
ADD A COMMENT »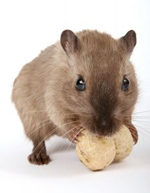 Researchers were able to turn off peanut allergy in mice by tricking their immune systems into thinking the nut proteins were not a threat to the body. The researchers at Northwestern University Feinberg School of Medicine attached peanut proteins onto white blood cells and then put them back into the mice. These mice, who were supposed to have an anaphylactic response if they ate peanut, did not have a life-threatening allergic reaction to peanut extract. Essentially, the researchers created tolerance to peanut in the mice. The immune system, which previously treated the peanut protein as a threat, now didn't. The researchers were able to achieve the same tolerance in other mice using egg protein.
This is exciting new research targeting food allergies specifically and the hope is that these methods could someday be applied to humans. If we could train the immune system not to overreact to food substances, wouldn't that be wonderful??
The research was funded by the National Institutes of Health and Food Allergy Initiative.
Read full article: Peanut Allergy May Be Turned Off By Tricking Immune System