Finding or making your favorite holiday foods – gluten-free, allergen-free
Posted on December 13th, 2011 by Alison
Read 4 Comments - Add Your Own »
For people who are gluten-free or have food allergies, the holidays can be a reminder of what we can't eat. Gluten and other allergens are everywhere, and because we are more social at this time of year, this fact becomes more obvious as we attend holiday parties, share meals with family and friends, and are tempted by sweet treats all around.
But you don't have to go without your favorite foods! You may not be able to indulge in everything, but think about what food would make you feel the most emotionally satisfied — is it pie, is it stuffing? Is it a box of chocolates, matzoh ball soup? Which one holiday food would give you the greatest pleasure? Then, make it happen! If you can buy it, treat yourself! If you have to make it yourself, do it. If someone else wants to make it for you, great! If you don't have to stop at one food, by all means, don't! If you are feeling overwhelmed by all the things you can't eat, let's simplify it.
I hope this short list of suggestions can help, and if there's something else you're longing for, let me know, and I will use my resources to try to find you the enjoyment you deserve!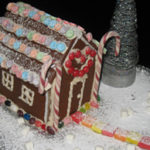 GLUTEN-FREE / ALLERGEN-FREE GINGERBREAD MEN OR HOUSE
Buy it: Oops, we're past the deadline already for ordering an allergen-free gingerbread house kit from A&J Bakery, but now you know for next year. Sensitive Sweets in southern California is also making an allergen-free gingerbread kit for purchase.
Make it: You can make this. Seriously, you can. Read my post "I made an allergen-free gingerbread house!"
ROLL OUT SUGAR COOKIES
Buy it: I haven't found any gluten-free shaped sugar cookies you can buy in stores that are gluten-free, and many of the sugar cookie mixes don't make cookies that hold their shape.
Make it: I am very excited this year that I found a GREAT recipe for roll-out sugar cookies that are free of gluten, dairy, eggs and nuts! The recipe is from Heidi at Adventures of a GF Mom. (The recipe calls for almond extract which I replace with vanilla.) Cybel Pascal has a recipe for sugar cookies that is also free of the top allergens.
PIE OR PIE CRUST

Buy it: Whole Foods' Gluten-Free Bakehouse brand has a pie crust, and you can find finished pies or tarts from Katz Gluten Free, Crave Bakery, and Christine's Upper Crust Pies.

Make it: There are actually tons of gluten-free pie and pie crust recipes out there if you want to make it from scratch. Some of the sites that have recipes are Whole Foods, Simply Gluten-Free, Living Without Magazine, Elana's Pantry, and Gluten-Free Girl. You can also use commercially available flour blends to make a crust, which saves you some steps. King Arthur shows you how, and if you want a really easy with video instruction, Pamela of Pamela's Products shows you how to make a gluten-free pie using her mix (is also egg-free and can be dairy-free). Jules of Jules Gluten Free also shows you how to make pie using her flour blend.
GRAVY
Buy it: You can purchase gluten-free gravy mixes. Here is a list of search results for gluten-free gravy on Amazon. Mayacamas is another company that makes gluten-free gravy mixes.
Make it: Instead of flour, use a gluten-free starch. Here's a little primer on wheat-free thickeners from FitSugar. Ali at Nourishing Meals explains how to make gluten-free gravy. A chef from Whole Foods shows in a video two ways to make gravy, and The Family Chef shares her easy steps.
STUFFING
Buy it: Look around — gluten-free bread  crumbs or croutons are available, but if you can't find them, you can buy gluten-free bread like Udi's or Rudi's to use in any traditional stuffing recipe.
Make it: You can make a loaf of gluten-free bread to use in stuffing recipes. That's what I do because I can make the bread dairy and egg-free also for people with multiple food allergies in my family. This recipe for Harvest Stuffing always turns out. If you don't want to use bread, opt for a rice dressing, which will be naturally gluten-free. Make sure any broth you are using is gluten-free. If you have nut allergies, watch out — many stuffing recipes call for nuts.
MATZOH BALL SOUP
Buy it/Make it: You buy the mix to make your own matzoh balls. They are really good and I love the name: Mock-Zah Ball Mix.
Buy it: Hmmm… nope, you're going to have to make these.
Make it: Easy to make gluten-free, just substitute an all-purpose gluten-free flour blend for the flour called for in traditional recipes. Need to be egg-free too? Don't worry, I figured this one out for you: Gluten-Free Egg-Free Latke Recipe
CHOCOLATES
Buy it: See's Candies is still my favorite boxed-chocolates. They have an allergen list, so depending on your allergy, you might be able to find something you can have!
Make it: You can easily make chocolate lollies and shapes by following these steps:
Buy candy molds in holiday shapes, like snowflakes or snowmen or Christmas shapes or Santas.
Buy Enjoy Life Foods Chocolate Chips or Mega Chunks – they are free of the top 8 allergens.
Temper the chocolate in the microwave by heating the chocolate in a bowl in the microwave, at power level 5 or 50% for 30 seconds. Using a rubber spatula in a gentle sweeping motion,  stir the chocolate, even if none of it has become liquid yet and return the bowl to the microwave oven for another 30 seconds. Remove, stir, and repeat until about two-thirds of the chunks become liquid and about one-third are in soft lumps. Continually stir to cool the chocolate until the soft lumps disappear and the chocolate has cooled a little.
Pour the chocolate into the molds, or use a spoon or spatula to put it in, and let it set in the refrigerator.
When chilled completely, wrap the chocolates with colored foil or clear wrap.
What else is tugging at your tummy this holiday season?