This Week Only: Donate $2 (Or More) To Help Send Children To A Gluten-Free Summer Camp!
Posted on December 19th, 2011 by Alison
ADD A COMMENT »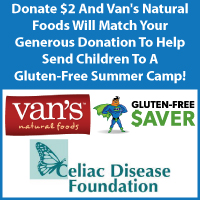 If you or your child has ever been to summer camp, you have memories of the playing in the outdoors and making new friends. But what if your child couldn't go because of his special dietary needs? Fortunately, special camps are popping up around the U.S. and this summer the Celiac Disease Foundation is starting a new one in southern California.
In the spirit of the giving season, I am hoping that you will help provide scholarships for children to attend this gluten-free summer camp. This week, giving just $2 will go a long way…
Through Sunday, December 25, Gluten-Free Saver has partnered with Van's Natural Foods to raise money to send children to next summer's CDF-sponsored summer camp, and Van's is matching all donations up to $1,000!
The goal is to raise $2,000 – and when you donate $2, you're really contributing $4.
You can read more about the fundraiser here: www.glutenfreesaver.com.
The summer camp will be held in San Bernardino in Southern California from July 30 to August 3, 2012, and it's open to all 7-15 year old gluten intolerant and gluten-sensitive children – not just those diagnosed with celiac disease.
I hope you will join me in giving $2 (or more if you wish) so children can attend a camp where they don't have to worry about the food, and they can just enjoy being kids. Please help reach the goal of $2,000. Every $2 helps. 100% of all donations will go directly to the Celiac Disease Foundation.
YES! I want to help send a child to a gluten-free summer camp and donate $2 right now!
Thank you!