Two California summer camps for gluten-free kids – register now
Posted on January 29th, 2012 by Alison
ADD A COMMENT »
Treat your child to a week of gluten freedom at a special summer camp! There are two California camps – Camp Celiac in northern California, and the new Children's Celiac Camp in southern California.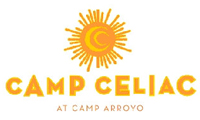 CAMP CELIAC
In northern California at Camp Celiac, "campers, counselors, and volunteers eat delicious gluten-free food and do camp activities such as a ropes course, rock climbing, ziplining, boating, swimming, and outdoor sports. Three meals a day without having to ask if any of the foods are gluten-free is life-changing for many campers and staff!" Ages 9-17.
There will be two weeks (each with a different group of campers):
Week 1:Â  Tuesday, July 24 – Saturday, July 28, 2012
Week 2:Â  Saturday, July 28 – Weds, August 1, 2012
To register:
Priority is given to campers from Northern California. All campers from Northern California who register between Feb 1st and Feb 14th will be given equal priority if all four registration steps (see below) are completed by February 14 (and received if paying by mail); i.e. there is no advantage to registering on February 1st rather than February 14th. After February 14th, available space will be allocated on a first-come, first-serve basis after all four registration steps are completed (and received if paying by mail).  At all times, space availability will depend, in part, on the camper's age & gender since cabins are segregated by sex and age. For more information about how to sign up for this camp, visit the registration page at CeliacCamp.com.

CHILDREN'S CELIAC CAMP – New!
In Southern California's San Bernardino Mountains near Big Bear, campers will enjoy "a week with their peers, filled with fun activities and adventure in an environment dedicated to their dietary needs. Attend Camp Nawakwa in the beautiful Barton Flats area of the San Bernardino Mountains and enjoy archery, arts and crafts, canoeing, cookouts, drama, hip hop dance, nature lore, swimming and wall climbing." Ages 7-15.
There will be one week:
July 30, 2012 to August 3, 2012
To register:
Spaces are limited…Plan ahead…Reserve now. Call the CDF office at 818.990.2354 or follow the registration steps on the Celiac Disease Foundation website.