If you carry EpiPens, please read this
Posted on February 27th, 2012 by Alison
Read 10 Comments - Add Your Own »
A friend of mine, who is also a mom of a child with food allergies, talked to me recently about how  she has not been diligent about taking the EpiPen with them wherever they go, and about how her husband hasn't taken responsibility for bringing the emergency medication when he takes the child somewhere. They know they should, but they forget, or they haven't totally accepted the fact that the EpiPen might be the thing that saves their child's life someday. I get it — I was in the same boat a while ago.
We had EpiPens, we had Benadryl, but it was hanging around our house in different places. Sometimes it would go in my purse, or be stashed in a compartment in my car, or thrown into whatever bag we were carrying that day. My husband didn't know where it was, and how scary to think what would have happened if I wasn't around in an emergency to find it.
After a few close calls of our own, and a few heart-wrenching news stories of kids who died because the medicine was not accessible, I realized that I may not be able to control everything she eats (though I try!), but I can make sure that treatment is available should an accident happen.
When a seven-year old with food allergies died, it hit me hard, and I had a heart-to-heart with my seven-year old daughter, sharing the little girl's tragic story with her, and talking to her about taking responsibility for her own safety. I told her how sad I would be to lose her and that she needed to keep herself safe by 1) not eating anything that could possibly be unsafe and 2) carrying her medication with her at all times. Since then, she has been much more careful with food and diligent about making sure her emergency kit is with her at all times.
And that brings me to the point of this article. You can't expect the child (or other family members) to be responsible about the emergency medication without providing some organization first. You need to have consistency.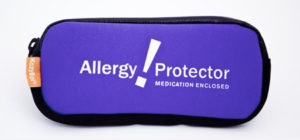 First, get a carrier of some kind. When I set out to write this article, I meant to highlight the carriers I use but it turns out that they are no longer available. The ones I use were made by AllergyKids. They are flourescent green with a big AllergyKids logo on it, they zip and they are roomy enough for a couple of epi-pens and other medication like Benadryl. I like that they are brightly colored so anyone who knows us knows that the bright green bag has the emergency medication in it. I also wrote my daughter's name is black Sharpie pen in large letters on the bag. There is no mistaking this bag for anything else. You can spot it from far away and find it easily within my daughter's backpack or anywhere else we might put it. If you can't find a brightly colored bag like I did, at least buy a few bags with the same pattern so that everyone knows which bags are the Epi bags.
Then, make sure you have a consistent place to keep it in your house, ideally near the front door so that it is easy to remember and easy to grab. We keep one of the bags in my daughter's backpack and we have another one in the house in my daughter's "inbox." We know to look there for the pack when we are going somewhere. She knows to look there also, and even her little sister is always on the lookout for the emergency pack.
You need to find a system that works for you, but have a system!
I found many companies that sell Epi-Pen bags of all styles and colors. Here are some of them:
Let me know if you have a system that works for your allergic child!