So Delicious debuts Almond Milk products
Posted on April 3rd, 2012 by Alison
Comments Off

on So Delicious debuts Almond Milk products
Every year in March I attend Natural Products Expo West, which is a trade show featuring the foods, beauty care and lifestyle products in the natural foods industry (all the brands you see in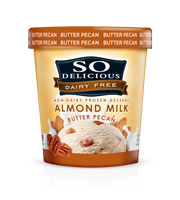 Whole Foods and other natural foods stores and the companies that are trying to get their products in to those stores). It is a really fun time seeing people I know and getting to try all the new foods that my favorite brands, and new brands, are showcasing. I am on the hunt at these shows, looking for gluten-free and other foods that cater to special diets. I will be posting about some of the new products I sampled, and first up is one for you dairy-free folks out there…
So Delicious is a brand known for its milk-alternative products, such as soy and coconut beverages, yogurts and desserts. They have added another dairy-free option to their line with Almond Milk products, which they say are lower in calories, fat, sodium and sugar. They are dairy, soy and gluten-free (with the exception of Cookies n Cream ice cream and the ice cream sandwich).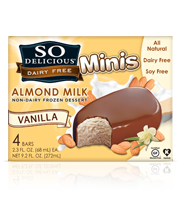 Here are the new products I saw and tasted at the show:
Greek-Style Cultured Almond Milk in Blueberry, Chocolate, Plain, Strawberry and Vanilla
Ice Creams – Butter Pecan, Cherry Amaretto, Chocolate, Cookies n Cream, Mint Chip, Mocha Almond Fudge, Vanilla
Frozen Dessert Novelties, including chocolate covered Vanilla Bar, Mocha Almond Fudge Bar and Vanilla Ice Cream Sandwich
They were all so delicious! 🙂
Now, as a mother of a child with a nut allergy, I was concerned that the coconut milk products we normally eat might be contaminated now that almonds are part of the line. We LOVE So Delicious coconut milk products and would be sad to have to give them up. From the email I received from the company, it looks like we won't have to:
Like all other non-dairy beverages, our almond milk products are produced in some of the same facilities where dairy, soymilk, and our coconut milk are produced. With this in mind, our team takes the cleanliness of the production facility, prevention from cross-contamination, and validation of the allergen-free status of our products extremely seriously.

Many of our customers have food sensitivities and food allergies, and they have come to rely upon us for more than two decades to provide safe and delicious food options for their families. So Delicious® Dairy Free is a market leader in allergen testing and a world-class benchmark for food integrity. We apply strict quality-control measures, which are noted as the most stringent in the industry, in an effort to prevent contamination by undeclared food allergens. To assure our preventative measures are effective, we sample test our products for the presence of allergens using state-of-the-art testing methods.

Our allergen testing is trusted by allergen organizations and thousands and thousands of households, because we have a documented and regimented program that is instituted at every facility where we produce So Delicious® Dairy Free. It involves some of the most rigorous testing in the world, and that testing is conducted at various stages of production–from testing the raw materials and ingredients to the manufacturing lines to the final product. We ensure that the product that is shipped into stores is safe and of the highest quality. And we test all of our allergen ingredients down to 5 parts per million. Just to give you some perspective, the FDA allows companies to declare they are gluten-free if they test to 20 parts per million. But we are committed to testing that is four times as sensitive.

To learn more about our allergen-prevention program visit us at: http://sodeliciousdairyfree.com/allergen-information
If you are dairy-free, and even if you aren't, this new product line will be a welcome addition to your diet!