Gluten-Free Summer Camps in California 2013
Posted on January 29th, 2013 by Alison
ADD A COMMENT »
Treat your child to a week of gluten freedom at a special summer camp! There are two California camps dedicated to gluten-free campers – Camp Celiac in northern California, and CDF Camp Gluten-Free in southern California.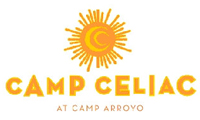 CAMP CELIAC
In northern California at Camp Celiac, "campers, counselors, and junior counselors eat delicious gluten-free food and enjoy traditional camp activities such as a ropes course, rock climbing, zip-lining, boating, swimming, archery, arts and crafts, skit night, and outdoor sports. Three meals a day without having to ask if any of the foods are gluten free is life changing for many campers and staff!" Ages 9-17. Campers ages 16-17 years may choose to volunteer as junior counselors.
There will be two weeks (each with a different group of campers):
Week 1: Tuesday, July 23 – Saturday, July 27, 2013
Week 2: Saturday, July 27 – Wednesday, July 31st, 2013
To register:
All campers from Northern California who register between Feb 1st and Feb 14th will be given equal priority if all four registration steps (see below) are completed by February 14 (and received if paying by mail); i.e. there is no advantage to registering on February 1st rather than February 14th. After February 14th, available space will be allocated on a first-come, first-serve basis after all four registration steps are completed (and received if paying by mail). For more information about how to sign up for this camp, visit the registration page at CeliacCamp.com.
At CDF Camp Gluten-Freeâ"¢, campers with celiac disease or non-celiac gluten sensitivity enjoy sports, swimming, arts, and high adventure in a strictly gluten-free environment. Camp is held July 15-19, 2013 at Camp Fire Camp Nawakwa, located in the beautiful Barton Flats Area of the San Bernardino Mountains in CA and accredited by American Camping Association" Ages 7-15.
There will be one week:
July 15-19, 2013
To register:
Camp registration is on a first come-first served basis. To register, you must send your completed camp registration forms, one registration packet for each camper or Mentor, with a $200 deposit to Celiac Disease Foundation. You will receive a letter from Celiac Disease Foundation confirming the camper or Mentor's spot at the camp. Only campers on the confirmation list will be allowed to attend the camp. Payment in full is due by May 1, 2013. Full fee per Child $450; Full fee per Mentor $550. Call the CDF office at 818.990.2354 or follow the registration steps on the Celiac Disease Foundation website.