New Summer Camp for Kids with Food Allergies
Posted on January 29th, 2013 by Alison
Read 3 Comments - Add Your Own »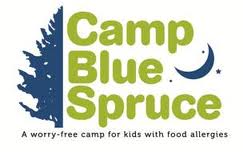 I am happy to announce that there is a new summer camp in Oregon for kids with food allergies. As far as I know, it is the only one of its kind. When I told my daughter about how she wouldn't have to worry about the food if she went to a camp like this, she said wide-eyed, "It would be like I didn't have food allergies!" Yes, my love, it would. I don't think she's quite ready for sleep-away camp this year (she's 8), but I want to support this wonderful camp so that when she's ready, she has this option.
Here is the email I received about the camp:
I am happy to let you know that Camp Blue Spruce, a worry-free camp for kids with food allergies, is now accepting campers for its 2013 session, August 18-23. Loads of fun activities and OregonÂ's great outdoors will make Camp Blue Spruce the highlight of the summer for children with and without food allergies.

We are excited about holding our first session this summer. Camp Blue Spruce will be like any other summer camp EXCEPT the food will be prepared without any of the top 8 food allergens, gluten or sesame. Up to 56 kids will be able to sit down at the table and eat all the foods that are being served — a simple gift for these children, who are rarely able to eat what everyone else is eating.  Kids attending Camp Blue Spruce will have a true camp experience without the worry and anxiety they experience daily with their food allergies. Camp Blue Spruce parents can be worry-free, too!

There are a few things you can do to help make this summer a success:

Register your child for camp. Visit www.campbluespruce.org for the application. Registrations are arriving already, so sign up today!
Encourage your friends with and without food allergies and sensitivities to register. We have reduced the cost for 2013 to make thecamp available to more kids.
Let us know if you can leave postcards at your doctorÂ's office, naturopath, favorite food store, bakery, library or school. If you have other ways to spread the word, please let us know.
Make a charitable contribution to Camp Blue Spruce. We cannot launch this camp solely with camp fee revenue. Your tax-deductible contribution will do three important things – promote the camp, provide scholarships to campers who are unable to pay the entire camp fee, and help cover essential camp costs. Donations can be mailed to: Camp Blue Spruce, 3519 NE 15th, #225, Portland, OR 97212.

Thank you for your interest and support of Camp Blue Spruce! Please call or email if you have any questions. We look forward to hearing from you.

Sincerely,
Louise Tippens
Camp Blue Spruce Board President
503-726-8886
info@campbluespruce.org
I really hope this camp is a success!