Gluten-Free Nut-Free Kettel Krakkers
Posted on March 1st, 2013 by Alison
ADD A COMMENT »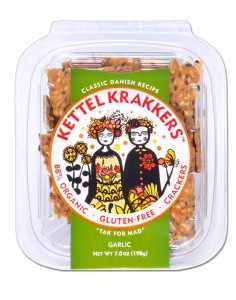 I recently attended the Gluten & Allergen-Free Expo, put on by the wonderful Jen Cafferty. It was the first time it was held in San Francisco and it was great to reconnect with some of my gluten-free peeps! There were many food vendors of course, and one that was new to me was Kettel Krakkers, based in San Francisco. If you are gluten-free, you know that good gluten-free crackers aren't plentiful. Most are very hard and crunchy, which I actually like (or I've gotten used to!), but I was happy to find a cracker that is softer, but still has some crunch from the seeds added in.
According to the company, the crackers are "handmade at our dedicated gluten-free facility using organic, locally-sourced ingredients of the highest quality."
They are:
Certified Organic
Guaranteed Gluten-Free
No Dairy, No Preservatives
Rich in Omega-3 and Oleic Fatty Acids
Made with Whole Seeds & Extra Virgin Olive Oil
Excellent Source Protein, Fiber, Essential Vitamins & Minerals
Also, they are nut-free. I love nuts, but my daughter is allergic and some of the better crackers I have found contain nuts. She's not allergic to seeds though, and these crackers are packed with them. They remind me of those little sesame stick crackers (which are made with wheat flour) that you find in trail mixes or cracker and nut mixes. I used to love those. These crackers are dairy, egg and soy-free too.
The Krakkers come in four flavors: Caraway, Sesame, Garlic and Rosemary. They can be ordered online on their website and in some stores. Like many other gluten-free products from small companies, the cost is higher than wheat crackers or even other gluten-free crackers, but if you are looking for a special cracker, this is it!