Cybele's Free-to-Eatâ"¢ Cookies are Allergen-Free
Posted on May 2nd, 2013 by Alison
Read 23 Comments - Add Your Own »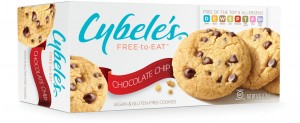 It seems everyone is coming out with a gluten-free cookie these days. But for those of us who have multiple food allergies, or whose kids do, a gluten-free cookie isn't enough — it needs to be free of other allergens as well. And don't forget about taste… even kids with food allergies can be picky!
Cybele Pascal learned about allergen-free cooking when her son was diagnosed with severe food allergies. She has since written three cookbooks and has most recently launched her line of allergen-free cookies, called Cybele's Free-to-Eatâ"¢ cookies. The cookies are gluten-free and free of the top 8 allergens: dairy, eggs, wheat, soy, peanuts, tree nuts, fish and shellfish. Cybele's Free-to-Eatâ"¢ packaging features colorful icons that illustrates "Free of the Top 8 Allergens". The cookies are also non-GMO, vegan and kosher.
I have had a chance to sample these cookies on many occasions, and the best news of all is that they taste great! The cookies come in three flavors: Chocolate Chip, Chocolate Chunk Brownie, and Oatmeal Raisin. Kids will love them, and grown-ups will probably sneak a few. 😉

Would you like to try them? Enter this giveaway!
Three lucky winners will receive all three cookie flavors! To enter, simply add a comment telling why you would like to win these cookies. I will accept comments until midnight on May 8 and then randomly select the winners on May 9, 2013. Good luck!