Gluten Intolerance Group of Marin November 2013 Meeting
Posted on October 29th, 2013 by Alison
ADD A COMMENT »

Whether this will be your first or fiftieth gluten free holiday season, navigating this social, food-filled and tradition-laden time can be challenging!
Our next meeting will give you some strategies so you can be safe and satisfied at your holiday events.
With eleven years of gluten-free holidays under her belt, local blogger Alison St. Sure (Sure Foods Living) will share strategies for how to stay safely gluten free during the holidays, including knowing where gluten can hide in holiday foods and addressing the social challenges of parties and family gatherings.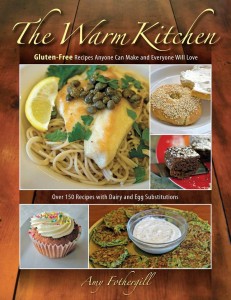 Local chef, Amy Fothergill (The Family Chef), will join GIG of Marin to share her new cookbook, The Warm Kitchen, that includes a chapter dedicated to holiday recipes and will be available for purchase. "If living gluten-free makes you feel like you are missing out on some of your favorite foods, then this book is for you," says Amy.
Mark your calendar now—don't miss Amy's demonstration of how to make a gluten free pie crust that will wow everyone around your holiday table, whether they eat gluten free or not. Also, we will hold a special raffle featuring cookbooks and holiday foods.
Whether you have celiac disease, gluten sensitivity, or are learning more about gluten free living for yourself, family or friends, we welcome you to the GIG of Marin. New members, friends, and loved ones are always welcome.
You can RSVP here or on our Facebook page. RSVPs help us plan logistically for the meeting, but if you haven't RSVP'd, please come anyway! You are always welcome.
The Gluten Intolerance Group of Marin will meet:
Tuesday, November 5

7:00 to 9:00pm

Community Room at Corte Madera Town Center (upstairs at PF Chang's end) 770 Tamalpais Dr. Suite 201, Corte Madera, CA, 94925
We look forward to seeing you!