Allergen-Free Chocolate Chips
Posted on December 15th, 2013 by Alison
Read 2 Comments - Add Your Own »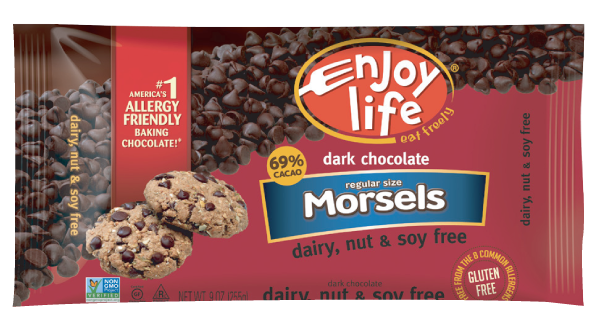 If you are looking for an allergen-free chocolate chip, I recommend Enjoy Life Dark Chocolate Morsels. Enjoy Life already has its Mini Chips and Mega Chunks, and the Morsels are a new addition.
All of these products are gluten, dairy, nut and soy-free — allergens that could be found in other chocolates. While I love the size of the Mini Chips and have been using them for years, I like the flavor of the new Morsels much better. They have a richer chocolate taste (69% cacao).
There are only two ingredients in the Morsels: Unsweetened Chocolate and Cane Sugar. The package states "Made in a dedicated nut and gluten-free facility." It has a Gluten-Free Certification, and its allergen statement says, "The facility also processes dairy and soy; however, this products is produced on a dedicated dairy- and soy-free line. Ingredients have been additionally tested to ensure strict allergen control standards are met."
So if you are looking for safe chocolate chips, try these! If you can't yet find them in stores, you can buy them online at Enjoy Life Foods.