Gluten Intolerance Group of Marin February 2014 Meeting
Posted on January 8th, 2014 by Alison
Comments Off

on Gluten Intolerance Group of Marin February 2014 Meeting

UPDATE: We have many wonderful vendors attending this meeting, including Bread SRSLY and Odd Bagel, who will be SELLING their breads, Good Eggs – a grocery delivery service, and samples from Mary's Crackers, Simple Squares, and Larabar. Please RSVP by email or Facebook if you will be attending this event so we can let our vendors know!
Gluten can trigger many autoimmune conditions:
Hashimoto's, Grave's Disease & other thyroid conditions
Multiple Sclerosis
Rheumatoid Arthritis
Lupus
Vitiligo
Diabetes
Alzheimer's Disease
Balance & Movement Disorders
Alopecia
and others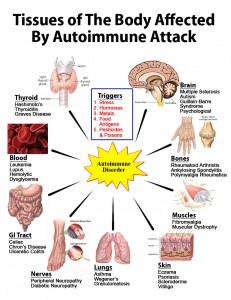 Autoimmune diseases as a group are the third most common medical condition in America, affecting over 50 million people. And new research indicates that the two leading medical conditions–heart disease and cancer–can have an autoimmune component too.
For some people, autoimmune symptoms and the risk of developing additional autoimmune conditions can persist even after eliminating gluten. But there are actions one can take to alleviate symptoms and reduce risk.
Join us at the Gluten Intolerance Group of Marin's next meeting on Tuesday, February 4 to learn more with Dr. David Lepp of The Bay Area Autoimmune and Thyroid Center.   
Whether you have celiac disease, gluten sensitivity, or are learning more about gluten free living for yourself, family or friends, we welcome you to the GIG of Marin. New members, friends, and loved ones are always welcome.
You can RSVP here or on our Facebook page. RSVPs help us plan logistically for the meeting, but if you haven't RSVP'd, please come anyway! You are always welcome.
The Gluten Intolerance Group of Marin will meet:
Tuesday, February 4

7:00 to 9:00pm

Community Room at Corte Madera Town Center (upstairs at PF Chang's end) 770 Tamalpais Dr. Suite 201, Corte Madera, CA, 94925
We look forward to seeing you!