Are peanuts hiding in your packaged snacks? A warning to those with food allergies!
Posted on June 15th, 2014 by Alison
ADD A COMMENT »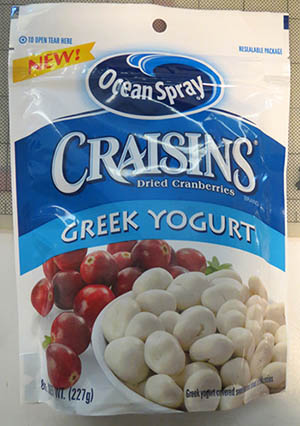 Ocean Spray announced on June 5, 2014 that it was recalling packages of its Greek Yogurt Covered Craisins® Dried Cranberries because three consumers reported that they founded yogurt-covered peanuts in the bag. Yikes! And there was a recent news story about a 7-year old girl who reached into a bag of chocolate-covered banana pieces only to bite into a chocolate-covered walnut, to which she had a known allergy. Luckily she was okay after a trip to the emergency room.
So how safe is it to eat any packaged food if someone has a food allergy? And how accurate are those food labels? The Craisins label does not have a warning that the product may contain peanuts, but it that does contain a warning that the product is made on equipment that also processes nuts. Perhaps someone with a nut allergy would have steered clear of this product in the first place. However, it seems like many food packages (especially Trader Joe's labels) contain a warning about all of the top eight allergens just to cover the bases, whether the allergen may be present or not. This can be very confusing for the consumer.
If you are not sure about a product, it is best to avoid it. If you want to find out more, call the manufacturer. They can tell you whether they have Good Manufacturing Practices (GMPs) with regards to allergens — whether they segregate allergens, clean between runs, have special days that they run products with allergens, have dedicated machinery, or don't do anything at all to
prevent cross-contamination. You will probably get better information from someone at the company than the generic statement on the label.
For recall information, I encourage you to sign up for FARE's (Food Allergy Research & Education) allergy alerts that you will receive via email. For an entire list of recalls, not just allergen-related, you can visit the FDA's Recalls, Market Withdrawals and Safety Alerts page.